Description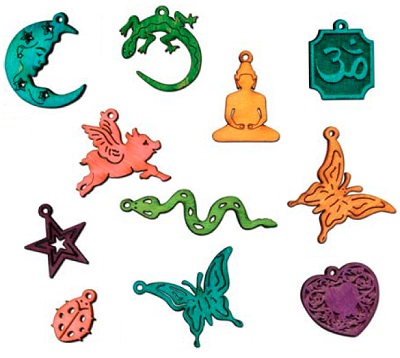 These lightweight flat charms are great for embellishing rubber-stamped designs. Each has a definite front, and on some the pattern is cut all the way through, making it visible on both sides. Therefore, although we could almost call them 2-sided, the back doesn't quite look finished.
Use these wood components as-is, or color them with paints (all types), marker pens or dyes. To apply stain, lacquer, or other wood finish, the manufacturer says to first sand the charm by laying it flat on a small piece of 320-grit sandpaper. Rub both sides across the paper about 10 times and then blow off the sawdust. Use a small drill to add extra holes for hanging dangles.
Measurements: Include loop, which usually has a hole size of 1-1.3mm. All charms are approximately 1-4mm thick. Stock numbers with L are left-side charms; Stock numbers with R are right-side charms.
---
See Related Products links (below) for similar items and additional jewelry-making supplies that are often used with this item.
Details
| | |
| --- | --- |
| Sold by: | dozen |
| Color: | Light Brown |
| Theme: | Crosses & Christianity |
| Size: | Approx. 41x24mm |
| Additional Info: | Laser-cut, 12 per pack |
| Country of Origin: | United States |
| Hole Size: | 1.0-1.5mm |