Description
HINT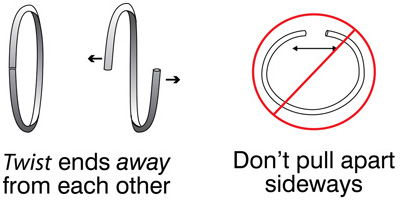 When you open and close jump rings, twist ends instead of "ovaling" them. This keeps their round shape better, which makes them easier to close neatly.
Raw brass items sometimes have a thin coat of oil. Warm water and detergent (dry to avoid water spots) or alcohol and a cotton ball are all it takes to remove it.
Since brass is a copper alloy, prolonged contact may discolor the skin of the wearer. Raw brass items will develop a natural patina over time unless sealed. To speed up the patina process, try applying an oxidizing solution such as Win-Ox (#86-343) or liver of sulfur (#86-354).
---
See Related Products links (below) for similar items and additional jewelry-making supplies that are often used with this item.
Details
| | |
| --- | --- |
| Sold by: | ounce |
| Color: | Raw |
| Size: | Approx. 3mm, 23-gauge |
| Additional Info: | Approx. 1,900 per pack |
| Thickness: | 23 ga (0.57mm) |
| Country of Origin: | United States |
| Hole Size: | 2.3mm |