Description
Color-Change Mirage Beads
Inspired by the mood jewelry of the 1960s and 1970s, thermo-sensitive liquid crystal beads change color with small temperature changes.  "Long chain crystals" in the colored section of the beads refract light differently at different temperatures, thus creating unique colors in every environment or mood!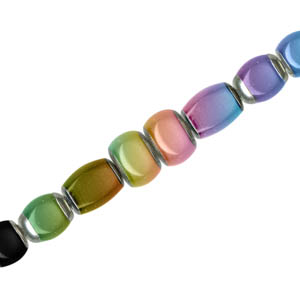 Mood Chart
Black:
Stressed
Brown or Gray:
Fear
Yellow:
Nervous
Green:
Mixed Emotions
Turquoise Blue:
Normal
Dark Blue:
Relaxed
Indigo:
Calm
Purple:
Cool
Orange:
Lovable
Light Green:
Romance
Teal:
Passion
Deep Blue:
Very Happy
---
See Related Products links (below) for similar items and additional jewelry-making supplies that are often used with this item.
Details
| | |
| --- | --- |
| Sold by: | ten |
| Theme: | Bees & Pollinators |
| Size: | 19x9mm |
| Additional Info: | 10 beads per pack |
| Country of Origin: | China |
| Hole Size: | 2.0-3.0mm |
| Size Group: | 12.0 - 19.9mm |
| Theme: | Butterflies & Insects |
| Color: | Multi-Color |
| Shape: | Lentil & Coin |
| Brand: | Mirage Beads |
Product Reviews
These beads are great, a really reasonable price, and they arrived quickly. Plus, they shopped via post, so I didn't incur any customs or duty fees, which was nice!

Honeybee color change bead

I bought a necklace with one of these beads on it and Fell in love! It's beautiful! Sometimes the little bee stays light and all around changes color. It's amazing! The prettiest bead I've ever seen! I came on today looking for them and Yaaaaaayyyyy i found them!