Description
A quick way to make linear earrings!
Attach dangles, thread beads on, or leave plain.
Use post to penetrate piercing, then pull through.
Lengths may vary.
Available in Sterling Silver and Vermeil (gold-plated sterling silver).
Select styles available in both original style and "U" threaders.

Tips
Beads with 1mm+ hole (including most 6mm and 8mm PRESTIGE Crystal crystal bicones) can be strung directly onto the thread. Vermeil ear threads are slightly thicker.
Changeable earrings: New earrings every day! Change the slide-on beads each time you wear them.
For threads without a built-in "U": To keep beads on thread when on display card or in jewelry box, carefully add wire keepers (#33-960, #33-961) or better yet, use SmartBeads with Bead Positioning System (available in sterling and gold). These look great and are easy to put on ear threads without breaking the solder joint.
Threads with built-in "U" are great because the "U" keeps the thread in place in the ear - no need for a nut in the back. We do not recommend stringing beads onto these styles, as it could bend or otherwise damage the "U."
To keep beads on thread permanently: Use sterling crimp bead #41-553 or GF crimp bead #41-653 above beads.
---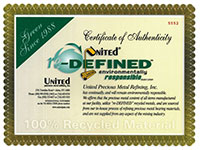 Green Silver
All our sterling silver items are nickel free. And this sterling silver item is even better! This item is made from environmentally responsible green silver.
---
See Related Products links (below) for similar items and additional jewelry-making supplies that are often used with this item.
Details
| | |
| --- | --- |
| Sold by: | pair |
| Size: | Approx. 3-3/4 |
| Theme: | Ear Threads |
| Additional Info: | Anti-tarnish coating |
| Country of Origin: | China |