Description
---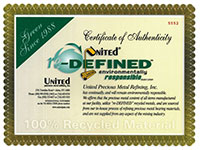 Green Silver
All our sterling silver items are nickel free. And this sterling silver item is even better! This item is made from environmentally responsible green silver.
---
See Related Products links (below) for similar items and additional jewelry-making supplies that are often used with this item.
Details
| | |
| --- | --- |
| Sold by: | each |
| Size: | 13x3x9mm |
| Additional Info: | Anti-tarnish coating |
| Country of Origin: | Italy |
| Hole Size: | 2.0-2.5mm |
| Size Group: | 12.0 - 19.9mm |
Product Reviews
I use this enhancer to add a charm to pearl bracelets and add a pendant to simple 16inch strand of beads. Love the way it makes a simple strand have a detail that can change.

I have used this clasp for many uses, even with price of Silver it is STILL a good Value. Versatility for Customer = Sellability. Hang pendants on your Leather, Silk, Pearls... Shorten your Bracelets. Please NEVER STOP CARRYING THIS... OK R&Ts? Gave it a 4 because I sometimes I need to tighten to MAKE SURE my customers do not lose it!