Description
Finishing Multiple Strands
or Heavy Cord?
Bullet End Instructions
As with most stringing methods, secure the first end before stringing the rest of your necklace. For this method, you need a 2-3" head pin, or 2-3" of brass, sterling or other soft wire.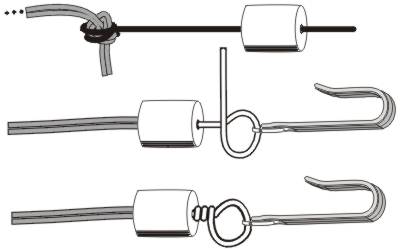 Tie a knot about 1/4" from the end of the cord(s). If you have more than one strand, knot all the strands together. Wrap the head of the pin (or end of the wire) around the knot a few times, then squeeze the wire/knot tight with a pair of pliers. As long as the knot is secure, it doesn't matter how messy it looks. The purpose of a bullet end is to hide this messy (but secure) method. If using beading wire / stringing cable, a crimp bead replaces the knot.
Poke the long end of the wire through the bullet end, pull all of the knot up inside, and make a round loop with the wire outside the small end of the bullet end.
Attach a jump or split ring, and/or clasp. If using lightweight wire, wrap the wire a few times around itself for durability.
After you finish stringing your jewelry, do steps 1-3 for the other end, leaving enough cord for a knot plus the length of the bullet end. Any excess cord can be cut off when done.
---
---
See Related Products links (below) for similar items and additional jewelry-making supplies that are often used with this item.
Details
| | |
| --- | --- |
| Sold by: | each |
| Color: | Antiqued Silver |
| Theme: | TierraCast Finishing Touches |
| Size: | 9.3x9.4mm |
| Additional Info: | Cast |
| Country of Origin: | United States |
| Hole Size: | 1.2mm |
| Size Group: | 8.0 - 9.9mm |
| Brand: | TierraCast |