4th of July Earrings Tutorial
Created by: Polly Nobbs-LaRue
Designer Tips
Center a stone in a setting and gently squeeze prongs in (with your fingers or pliers) working from opposite sides to keep the stone centered.
Once the prongs are bent in, use the burnishing tool to smooth them firmly into place.
Cut 2 pieces of chain, 5 links long.
Cut 2 pieces of chain, 10 links long.
The links on this 2.8mm peanut chain are a nice size, easy to add medium jump rings to. Also, the flattened links nicely catch the light.
Select 12 matching medium sized jump rings (5-6mm) from the mix.
Use a jump ring to attach a sapphire (blue) teardrop to the bottom of each piece of chain. For best way to open and close loops, see Jump Ring Hint in Jewelry Basics 101 (PDF).
Use a jump ring to attach a clear crystal teardrop to the 2nd link (from the bottom) on all 4 chains.
Use a jump ring to attach a siam (red) crystal to the 3rd link from the bottom, of all 4 chains.
Select 2 matching 4-5mm jump rings from the mix. Slide one long and one short chain onto a jump ring, and attach to the earring setting.
Repeat for other earring, add earring nuts, and go watch the fireworks!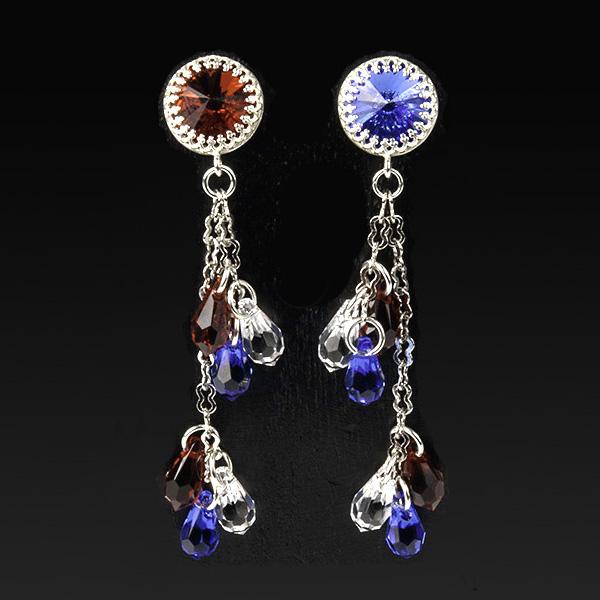 Suggested PartsSuggested Tools
2 pairs of jewelry pliers, such as #69-275-31
#69-101 EURO TOOL 2" Curved Steel Burnisher
Wire Cutters
For alternate colors and sizes...
Our Bead Blog
Created by: Summer MelaasDesigner Tips Attach ear wire to top loop of filigree. For best way to ope

What is the BEST Necklace Length? 18" necklaces are the most popular in the United States, but might

This olivine variety is composed of magnesium iron silicate. Peridot (pronounced PEAR-ih-doh or PEAR