Blue Pin Stripe Lashed Memory Wire Bracelet Tutorial
This project uses durable, springy memory wire as the base, and 26-gauge dark blue Artistic Wire as an accent.
Created by: Amy Mickelson
Designer Tips
Use heavy-duty cutters to cut memory wire.
Lashing the beads onto the memory from the center outward allows you to keep half of the wire needed on the spool, making the wire wrapping easier to manage.
You will need a total of 72-84" to wrap the beads onto the wire.
Unroll approximately 36-42" wire from spool but do not cut it. Put the cover back on spool. Optional: Cut the full amount off the spool, and wind one-half of the amount onto a bobbin (#63-130-01).
Start in the center of the bracelet, with the end of the wire closest to the spool, wrap the wire around one side of the bracelet wire 4 times.
Add a crystal bicone and tightly wrap the wire around the bracelet 4 times. Add one striped trade bead and wrap 4 more times and add another trade bead.
Repeat the process till you are about 1" from the end of the bracelet, wrap wire 4-5 times to secure and cut the excess wire.
Now unroll another 36-42" of wire and cut it from the spool. Repeat the process in the other direction.
Use memory wire bending pliers to create loops on each end of the memory wire, and embellish with wrapped loop dangles. For step-by-step instructions on making wrapped loop dangles, see Jewelry Basics Technique Sheet (PDF).
Free Technique Sheets & How-Tos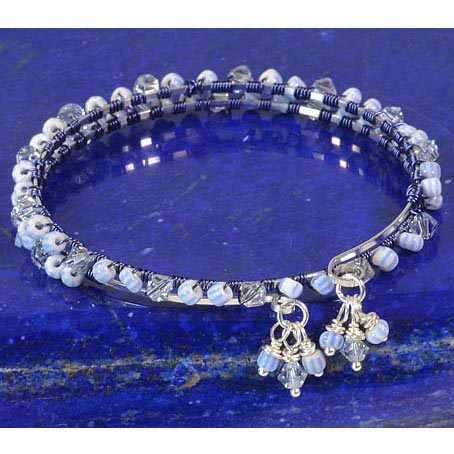 Suggested Supplies
Tools
#69-271-99 Tool, Glitter, Four-Piece Set
#65-507 Tool, Heavy-Duty Cutter, 5.5"

#65-701 Tool, Memory Wire Bending Pliers

Our Bead Blog
Created by: Guest Designer Deb FlorosSuggested Supplies1 #AMIET-15 TOHO Amiet Beading Thread, A

Created by: Guest Designer Deb FlorosSuggested Supplies1 #56-216-36-3 Instant Pendant with Screw-On

Created by: Guest Designer Deb FlorosSuggested Supplies 1 #61-130-05-01 Greek Leather Cord, 1.5mm,