Bubble Wand - Necklace Tutorial
Created by: Mollie Valente
Designer Tips
Cut a 10" piece of wire.
To straighten and harden the wire, run the length of the wire through the nylon pliers.
Use the ring mandrel to form a "bubble" loop (ours is size 9-1/2).
With the wire still on the mandrel, wrap a short coil to secure the round shape.
Cut off the excess tail on the coil. Straighten the handle shape.
Add beads to the handle in the pattern pictured or in your own pattern. End with the Opulence teardrop and a final "faceted" 3mm bead.
Use round-nose pliers to form a hanging loop with a 3mm inner diameter.
Optional: Use a chasing hammer and steel block to slightly flatten the bubble loop and hanging loop.
Optional: Texturing the bubble loop with a texturing hammer may help the bubble wand hold more soap, for larger bubbles.
Finish the necklace by threading the ball-chain necklace through the hanging loop and secure the clasp.
This Rings & Things blog post has instructions for forming a hoop (similar to the bubble loop) -- just don't clip off your beadable handle.
For instructions on making wrapped loops, see Jewelry Basics 101 (PDF).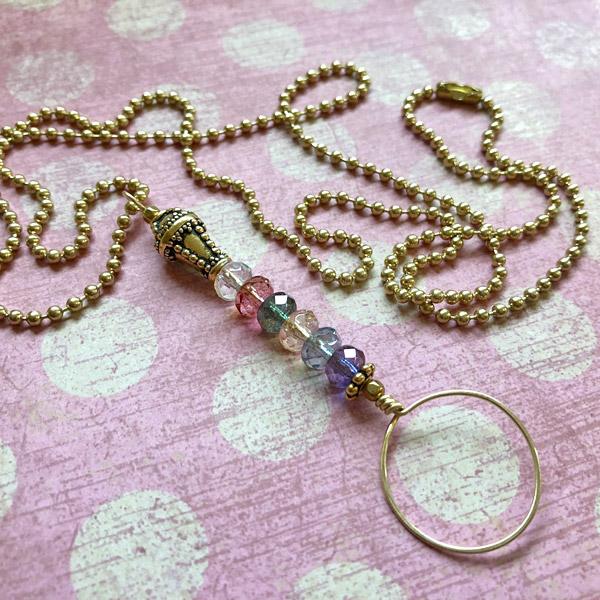 Suggested Supplies
Our Bead Blog
Hello, fellow crafters and DIY jewelry enthusiasts! Today, we delve into an essential aspect of neck

This olivine variety is composed of magnesium iron silicate. Peridot (pronounced PEAR-ih-doh or PEAR

Save time with pre-drilled blanks and create a pair of fun earrings with size 11/0 TOHO or Delica se