Crescent Moon Hoop Earrings Tutorial
Created by: Mollie Valente
Designer Tips
Plan your crystal bead pattern. My pattern has 8 crystal beads per earring and goes from dark to light, creating a subtle blue ombre.
Use a cup bur tool to soften the wire end of the endless hoop earring finding. Just insert the wire in the cup bur and twist until the wire edge is smooth.
Start by stringing a 2.5mm round sterling bead onto the endless hoop earring finding. This bead is a buffer for the first crystal bead.
String the crystal beads onto the endless hoop earring finding in your preferred pattern.
Continue stringing the crystal beads and finish with a 4mm round sterling-silver "SmartBead".SmartBeads with BPS™ (Bead Positioning System) have an inner lining that holds the bead in place.
Complete your earring by adding a French wire keeper (this goes behind your ear lobe to prevent earring loss).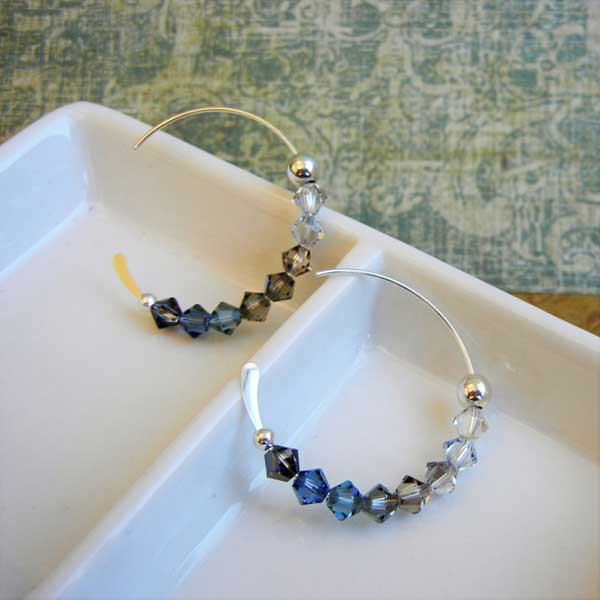 Suggested Supplies
Tools
For additional colors and sizes, or similar items, click into the "Related Products" tab of any item.

For additional projects using this style of hoops, see http://blog.rings-things.com/.../jewelry-design-ideas-for-endless-hoop-style-ear-wires/.

Our Bead Blog
Created by: Guest Designer Deb FlorosSuggested Supplies 1 #61-130-05-01 Greek Leather Cord, 1.5mm,

Created by: Guest Designer Deb FlorosSuggested Supplies 1 #20-111-223 TOHO Glass Seed Bead, Size 11

Created by: Guest Designer Deb FlorosSuggested Supplies 1 #21-000-043-79 Black Stone Beads, 8x12mm