Double Wrap Hammered Rings Tutorial
Depending on the beads you use, this quick and easy unisex design can go from frilly and feminine to macho and masculine.
Created by: Michelle Horning
Designer Tips
For step-by-step instructions, see the Double Wrap Hammered Ring portion of our 2014 blog post on creating rustic hammered wire wrapped Swarovski crystal rings.
Make sure the ends of the large gauge wire don't hang too far over, or they will catch on things and bend.
"Balance" Copper Ring is a modification with two smaller beads. Add one bead after wrapping the first end, wrap as many times as desired to center wire, add second bead, and attach to last end.
To stabilize a bead such as a puffed coin (silver ring), the smaller gauge wire can be wrapped on each side of the bead and around the center wire.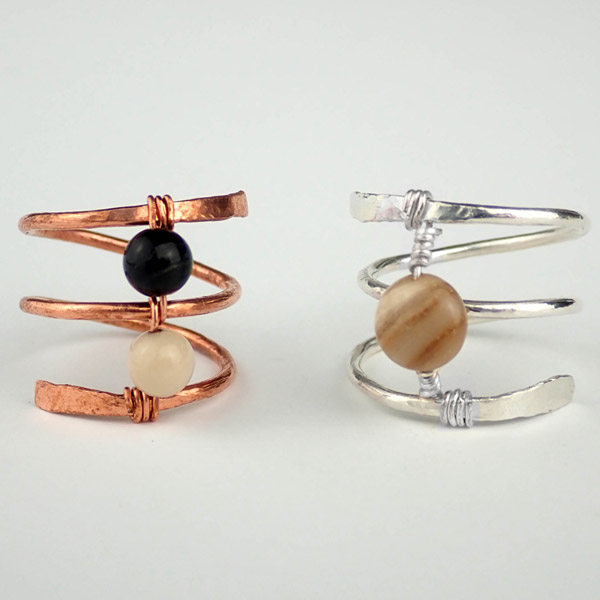 Suggested Supplies - Balance Copper Wire Ring
1 strand (use 2 beads) #21-886-932 Wood Opalite 6mm Round Gemstone Beads
1 pack #47-405-14 Copper Jewelry Wire, 14ga, Round, 20'
1 pack #47-405-22 Copper Jewelry Wire, 22ga, Round, 125'
Suggested Supplies - Fine Silver Wood Opalite Ring
1 strand (use 1 bead) #21-000-932-56 Wood Opalite 8mm Puffed Coin Gemstone Beads
1 ozt #64-899-14 Fine Silver Jewelry Wire, Round, 14ga, Dead Soft
1 ozt #64-899-22 Fine Silver Jewelry Wire, Round, 22ga, Dead Soft
Other Wire Options:
Use 14ga and 22ga sterling silver, or gold-filled wire.
Tools
Our Bead Blog
Created by: Summer MelaasDesigner Tips Attach ear wire to top loop of filigree. For best way to ope

What is the BEST Necklace Length? 18" necklaces are the most popular in the United States, but might

This olivine variety is composed of magnesium iron silicate. Peridot (pronounced PEAR-ih-doh or PEAR