Dulce Vida Crystal Bracelet Tutorial
Created by: Polly Nobbs-LaRue
Disclaimer: I can't take credit for this design -- I made it at TierraCast's Tucson 2019 Event, copied 93.6% from one of their examples. I love how many variations are possible, and how it sparkles in the Arizona sun!
Designer Tips
Glue crystal into 2-loop setting using Swarovski adhesive. Allow to dry.
Cut 2 pieces of 2mm leather, each 5 to 7" long. (5" pieces will give you a very petite bracelet; 6"" for an average wrist.)
Double a piece of cord, string through the button, add a barrel bead over both strands, and feed ends into a Jardin end cap. Flatten end cap with chain-nose or nylon-jaw pliers*.
Double the other cord, and string the barrel bead on, making a loop with enough room to fit easily over the button. Flatten end cap.
Verify fit and pattern before gently flattening barrel beads in place.
Use approximately 7mm oval jump rings to attach centerpiece to cord ends. For best way to open and close loops, see Jump Ring Hint in Jewelry Basics 101 (PDF).
For other color variations or similar styles of any of these components, click into that item's details.
*It's easier to flatten the end cap with metal chain-nose pliers, but you will slightly flatten the pattern, too. It's tougher to flatten the end cap and barrel beads with nylon-jaw pliers, but nylon-jaw pliers will protect the pattern. Another option is to use a thin piece of soft leather to protect the pattern.
Want more colors? No problem!
This button is available with clear crystals in 4 plating colors, or go for the empty frame setting (available in 4 plating colors) + over 70 colors of 34ss crystals to glue in!
The 2-loop empty cushion square frame setting is available in 3 plating colors, with over 70 cushion square crystal color options.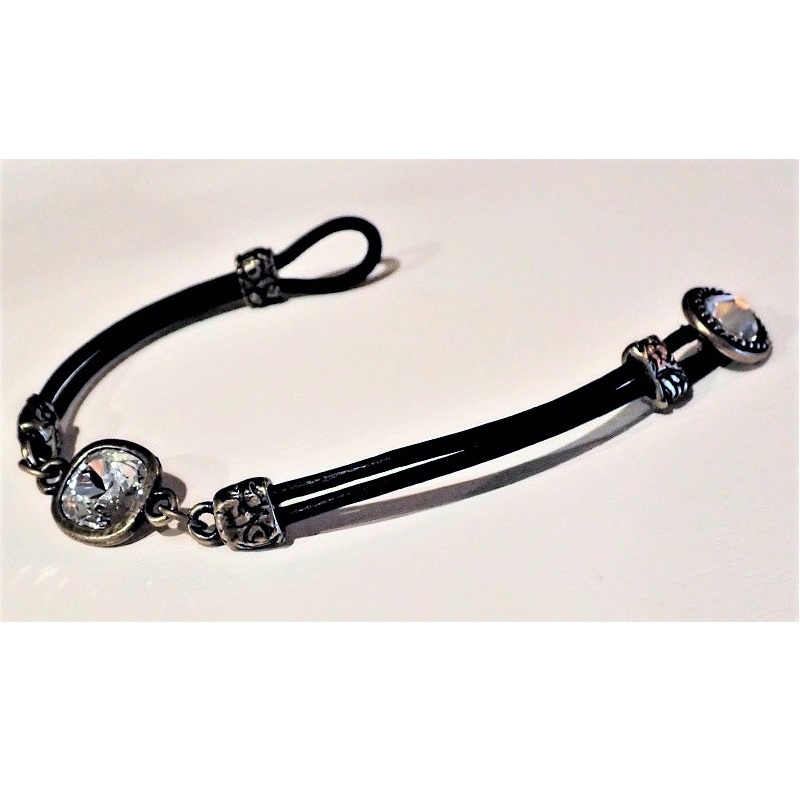 Suggested Supplies
Tools
Chain-nose pliers (for flattening cord ends and barrel beads, plus for use with jump rings)
Round-nose pliers (for jump rings)
Optional: Nylon jaw pliers or thin soft leather
Other Supplies
---
Our Bead Blog
Created by: Guest Designer Deb FlorosSuggested Supplies 1 #21-000-043-79 Black Stone Beads, 8x12mm

Created by: Guest Designer Deb FlorosSuggested Supplies 1 #28-684-196 Handmade 12mm Ceramic Peace S

Created by: Guest Designer Deb FlorosSuggested Supplies 1 #AMIET-7 TOHO Amiet Beading Thread, Teal