Fade To Black Crystal Pendant Tutorial
Created by: Rita Hutchinson
Designer Tips
Arrange stones from lightest to darkest.
Set first rivoli in top setting, pressing the bezel into place to hold the stone firm. Bending the bezel where the second setting attaches is a little tricky. Be patient.
Set the next stone, and press the bezel to hold firm.
Set the final rivoli, and press the bezel to hold in place.
With the burnishing tool, go over the bezel on all 3 stones, to flatten down, and prevent snagging.
Attach jump ring and hang from chain. For best way to open and close loops, see Jump Ring Hint in Jewelry Basics 101 (PDF)
See blog.rings-things.com/learn-to-make-easy-rivoli-crystal-rings for additional hints on setting stones in bezels.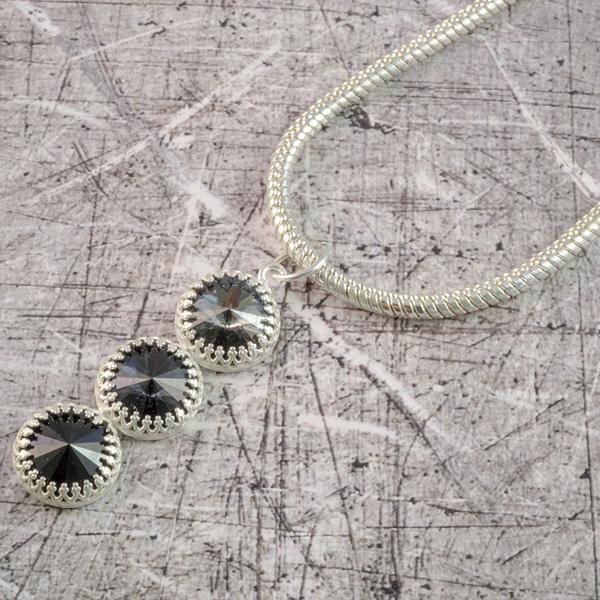 Suggested Supplies
12mm #1122 Rivolis by Swarovski are nearly gone, but these settings also work with most other brands of 12mm rivolis, including Preciosa and Matubo. Shop remaining colors while they last!
Tools
Our Bead Blog
Hello, fellow crafters and DIY jewelry enthusiasts! Today, we delve into an essential aspect of neck

This olivine variety is composed of magnesium iron silicate. Peridot (pronounced PEAR-ih-doh or PEAR

Save time with pre-drilled blanks and create a pair of fun earrings with size 11/0 TOHO or Delica se