Fit for a Queen Ring Tutorial
This simple project features crystal rivoli stones and 1-time adjustable ring blanks with a bezel setting.
Created by: Amy Mickelson
Steps to Make These Rings
While most colors of Swarovski crystal rivolis are gone, these settings work with most other major brands of 12mm and 14mm rivoli stones, including Preciosa and Matubo. To use one of the remaining colors of Swarovski rivolies, browse our full selection of 12mm & 14mm crystal rivoli stones.
Place the correct size of rivoli stone in the corresponding size of ring bezel setting.
Use chain-nose pliers or a burnishing tool to carefully press and fold down the crown points onto the rivoli.
TIP: Press down one crown point, then press down the point on the opposite side of the ring. This keeps the rivoli centered in the setting.
This ring adjusts to a variety of sizes, but is intended to only adjust one time and then be permanently locked in that size. Put the ring on and slide it to the correct finger size. To lock the ring to the desired size, fold the two tabs down on end of the ring shank.
Free Technique Sheets & How-Tos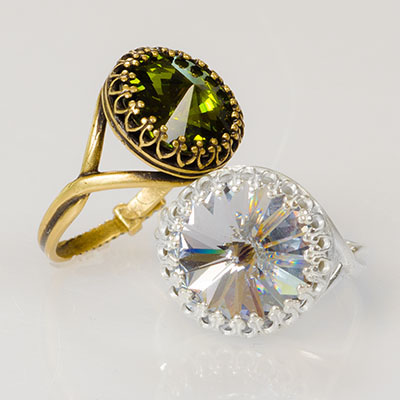 Suggested Supplies
Tools
#69-271-03 EURO TOOL Glitter, Chain-Nose Pliers
Our Bead Blog
Created by: Summer MelaasDesigner Tips Attach ear wire to top loop of filigree. For best way to ope

What is the BEST Necklace Length? 18" necklaces are the most popular in the United States, but might

This olivine variety is composed of magnesium iron silicate. Peridot (pronounced PEAR-ih-doh or PEAR