Garden Magic Bookmark Tutorial
Pair the magic of books with the magic of a garden forever in full bloom!


Created by: Liz Graf
Designer Tips
Twist to open the loop on the eye pin, add dragonfly charm, and close loop. For most secure way to open and close loops and jump rings, and for instructions on looping the other end of the eye pin, see Jewelry Basics 101 (PDF).
Add bead cap, bead, and other bead cap to eye pin.
Create loop on other end, and add to bookmark.
Enjoy using, selling or gifting your Garden Magic bookmark!
Give the gift of Sapphire blue, to signify the enduring loyalty and trust of true love or true friendship forever. Or, turn this design into a birthstone gift using other colors of crystal beads or gemstone beads.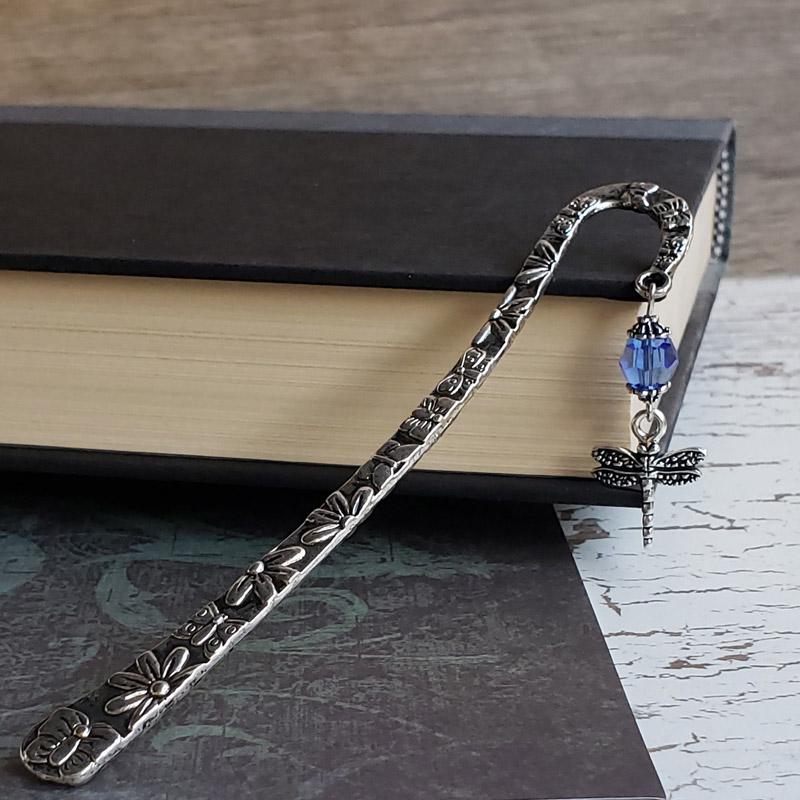 Suggested Supplies
1 each #05-000-08-18 Round Swarovski 5000 Faceted Round Beads, 8mm - Sapphire
(Or other sapphire bead)
1 pack of 10 (use 1) #55-434-AP Bookmark, Cast, Butterflies and Flowers
1 pack of 10 (use 1) #44-940-83-AS TierraCast Antiqued Silver Plated Dragonfly Charm
1 pack of 10 (use 2) #43-139-12-AS TierraCast Antiqued Silver Plated Bead Caps, Tiffany 5mm
1 ounce (use 1) #37-721-1 White Plated Eye Pin, 7/8", Standard
Tools
Our Bead Blog
Created by: Guest Designer Deb FlorosSuggested Supplies 1 #61-130-05-01 Greek Leather Cord, 1.5mm,

Created by: Guest Designer Deb FlorosSuggested Supplies 1 #20-111-223 TOHO Glass Seed Bead, Size 11

Created by: Guest Designer Deb FlorosSuggested Supplies 1 #21-000-043-79 Black Stone Beads, 8x12mm