Gemstone Index: Agate
No gemstone is more creatively striped by nature than agate. This distinct and dramatically banded variety of chalcedony is composed of quartz layers. This composition varies greatly and can be of many colors. The other chalcedony family, jasper, has less-regular patterns and is less defined than the agates. Another difference between the two is that agates tend to be translucent (or at least contain translucent bands), while jaspers are generally opaque. This distinction stems from agate being composed of microscopic "fibers" of crystalline quartz while jasper is made of microscopic "grains" of crystalline quartz. Each individual agate forms by filling a cavity in a host rock. As a result, agate is often found as a round nodule with concentric bands like the rings of a tree trunk.
Agate is said to be named for the place it first was found — along the River Achates (now called the River Drillo) in Sicily. In ancient times, agate was highly valued as a talisman or amulet. It was said to quench thirst and protect from fever. Persian magicians used agate to divert storms. Some believed that agate would render the wearer invisible, and due to its strength and durability, it is used for making ornaments or for astrological purposes. Agate is a cooling stone and is said to cure insomnia, protect against danger, promote strength and healing, and ensure a healthy life. The major sources of agate are Australia, Canada, Mexico and the U.S.A. The gemstones of Minnesota (Lake Superior agate) and South Dakota (Fairburn agate) are agates. The gemstone of Maryland (Patuxent River Stone) is also debatably an agate, but may actually be quartzite.
---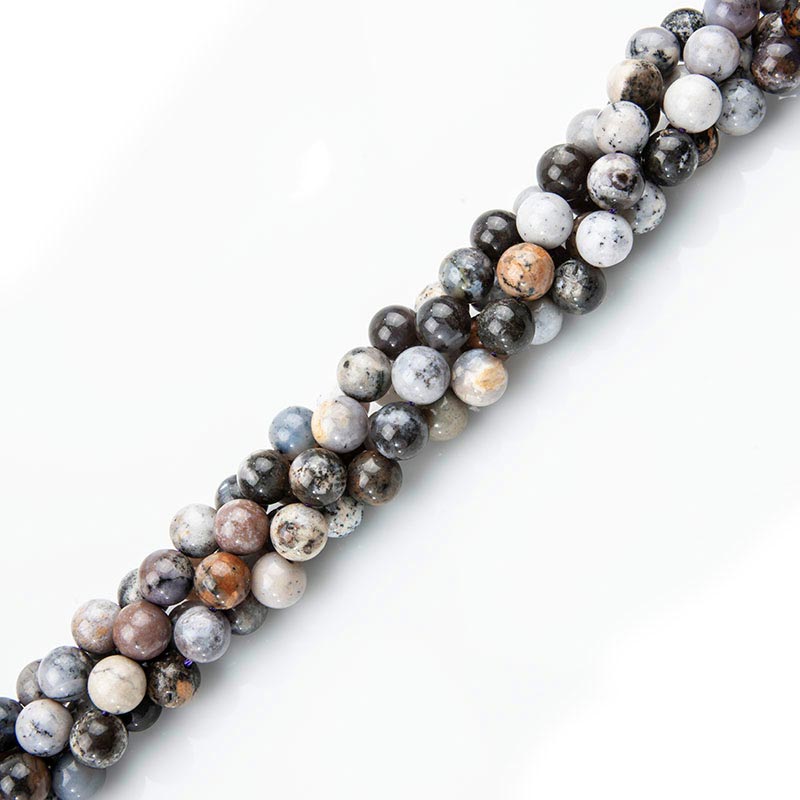 Amethyst Sage Agate: (sometimes called Sage Amethyst) is a dendritic agate with a base of lilac purple, cream, white, tan or dusty sage green, with dark dendrites (branching patterns like tree branches or river deltas) and black manganese veining. Some beads are translucent like chalcedony, others are opaque, and others have portions of both. Shop Amethyst Sage Agate Beads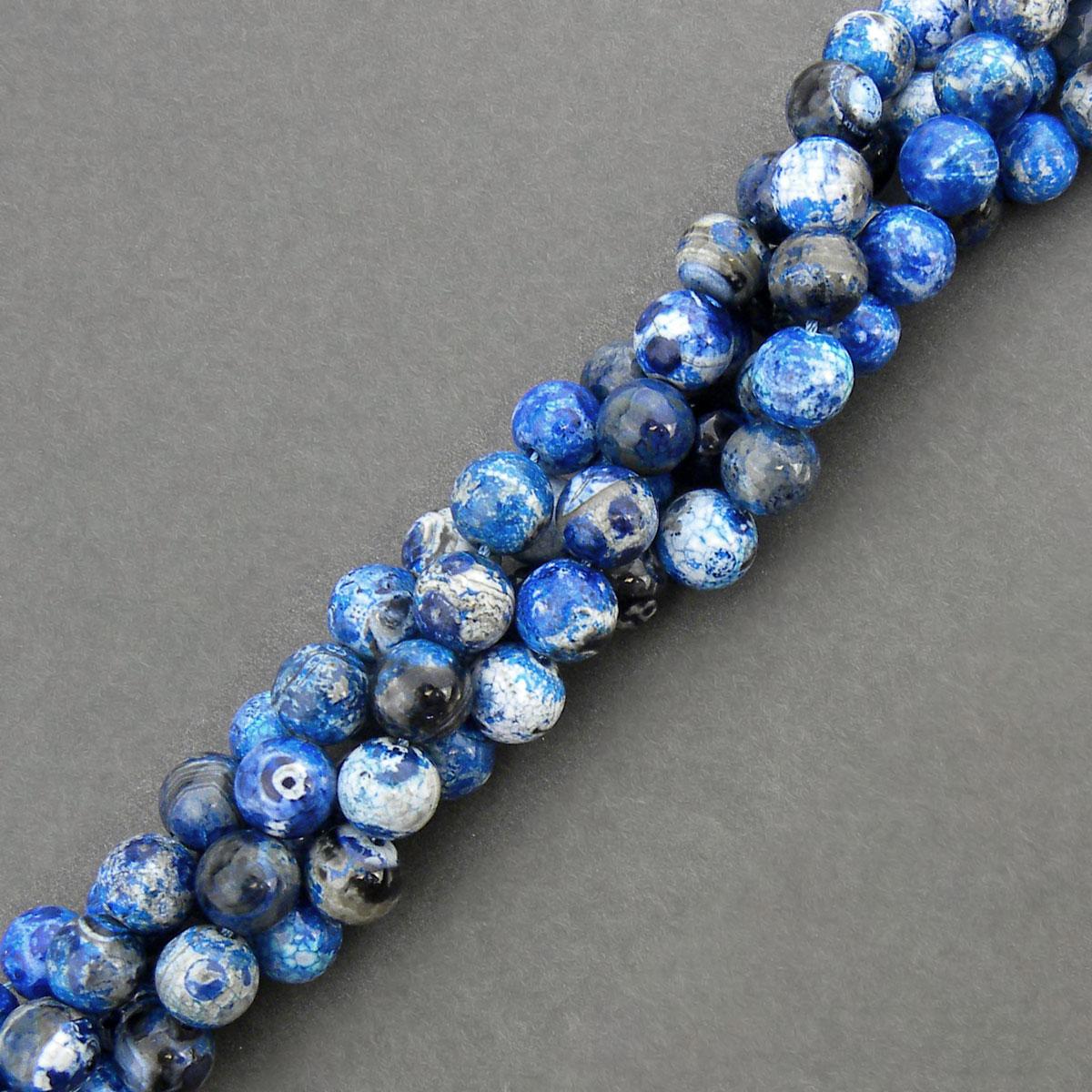 Azure Agate: Our azure agate beads are darker blue than many azure agate beads on the market. They are a vivid mix of indigo, cobalt blue, white, black, translucent gray and occasionally some red-browns. Some of the beads have dark blue or black spots like evil eye beads. Like other Fired Agate, the rich blues in these semi-precious beads are achieved via a combination of heat and dyes. The color goes great with new blue jeans, and is an economical alternative to lapis lazuli. The shades of blues found in strands of azure agate can be used for either the throat chakra or brow chakra (or, for classic WOW players, completing a quest in the Arathi Highlands). Shop Azure Agate Beads
Banded Agate gemstone beads offer striking stripes and patterns that look great in jewelry applications! The bands found on this semiprecious gemstone tend to be simple and clean, which makes for dramatic statements.
Common colors of banded agate gemstones found in nature are gray, white, and shades of red. Green, yellow, and black also occur naturally, but the majority of our banded agate beads are enhanced with a dye or other color treatment. Choose your favorite banded agate beads from our selection of slabs, cabochons, faceted rounds and more - just keep in mind that gemstones come from nature, and each bead will be unique! Shop Banded Agate Beads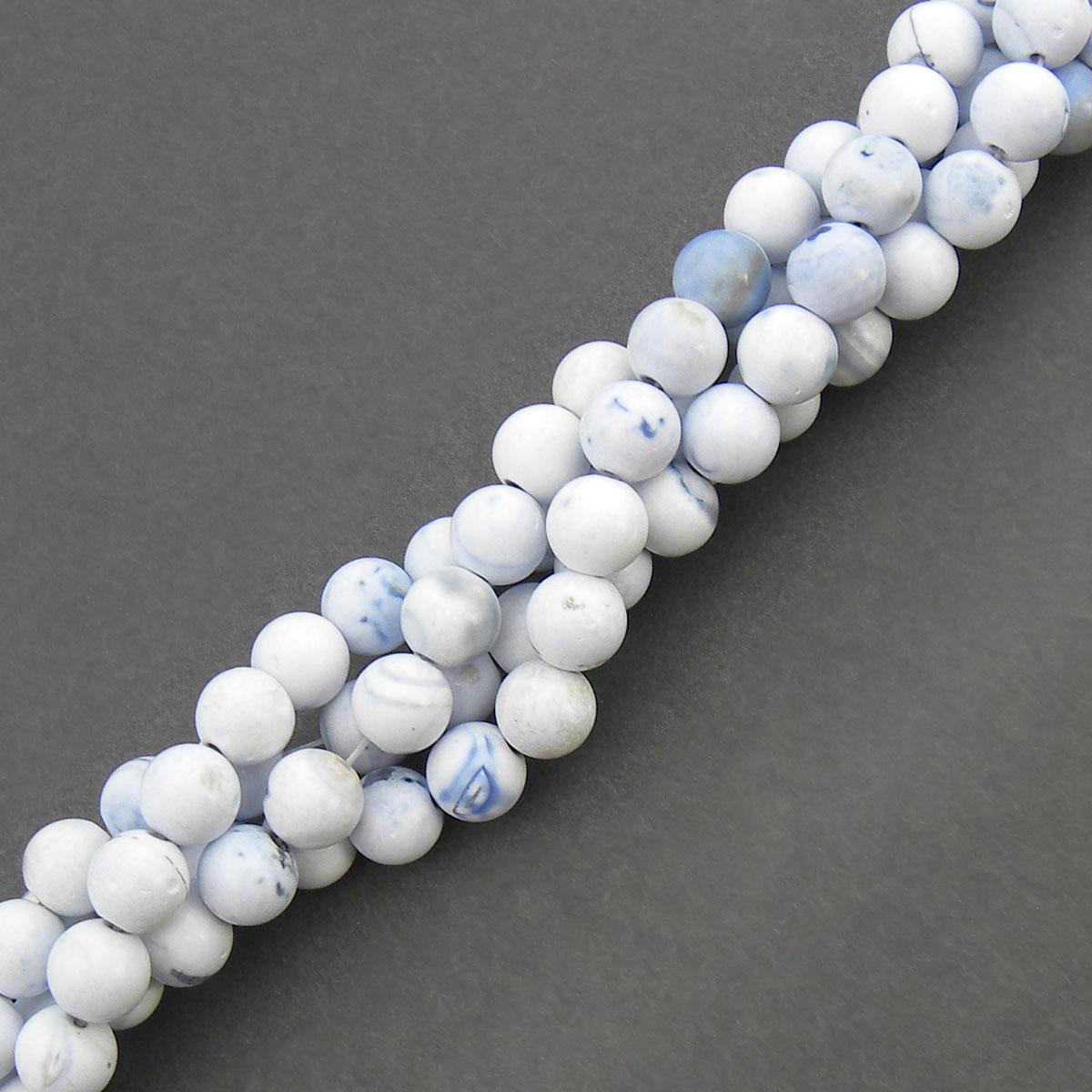 Blue/ White Porcelain Agate: This lovely variety of agate has been dyed and heated to produce beads that look just like classic blue & white porcelain. They even have a slightly matte feel, although they have a nice shine. The cooling shades of white and indigo blue are popular for unblocking the brow (third eye) chakra, and are believed to help relieve tension headaches and sinus issues.
Blue Lace Agate gemstone beads add a soothing baby blue hue to the gemstone palette, displaying subtle light blue bands in lacy and wavy patterns. Just keep in mind that gemstones are made by Mother Nature, and each gemstone bead will be unique. These pastel blue semiprecious beads include beads cut from grade-A blue lace agate, as well as unusual druzy blue lace agate coins. All grades of this gemstone are said to lighten situations and nurture maternal impulses. In traditional Eastern medicine, blue lace agate is linked to the throat chakra, and can help calm overactive thyroid and parathyroid glands, as well as assist in clear and confident communication. Shop Blue Lace Agate Beads
Botswana Agate may be almost mined out, so don't wait to buy these limited-stock semiprecious gemstone beads! Banded with fine, parallel lines of tan, mahogany, pink and white, Botswana agate beads make a beautiful addition to gemstone jewelry. Unfortunately, in recent years, we've seen less rough (uncut) stone, and newer beads are often (not always) paler in color than what we've previously stocked. As the name suggests, this gemstone is mined in the African country of Botswana. Shop Botswana Agate Beads Beads
Crazy Lace Agate gemstone beads (sometimes known as fashion jasper beads) offer dramatic twisting and turning bands of color. The untreated, natural hues of these semiprecious gemstone beads most commonly consist of yellow and gray, sometimes with shades of pink, tan, orange or red intermingling in the "crazy" twists and turns. This variety of semiprecious agate offers some of the most pretty and intricate mineral patterns offered by Mother Nature. Keep in mind that each crazy lace agate bead will display a unique pattern. Shop Crazy Lace Agate Beads
Dyed Crazy Lace Agate has the same dramatic patterns, with the increased intensity of bright pinks, vivid turquoise blues, unusual purples, and malachite-like greens. We try to make sure our dyed stones are colorfast, but some batches may fade over time, or with exposure to some chemicals. (Hairspray and perfumes often contain harsh solvents.)
Druzy Agate is delicate, and is best suited for applications like pendants, earrings and pins that will not receive a lot of wear. When used in bracelets, remind your customers to treat the bracelet with care. To clean, use warm, soapy water and a soft brush. Drusy quartz rates 7 on Moh's Scale of Hardness; to avoid scratching your other jewelry, gently wrap druzy in fabric when storing it.
The stunning visual appeal of druzy beads and pendants make them a great option for jewelry focals. Sometimes spelled druse or drusy, druzy is a layer of fine crystals that forms on the surface of rock fractures and cavities (most commonly quartz) over millions of years. Druzy most commonly forms as clear quartz crystals, but can also be composed of amethyst, citrine, or other colors of quartz, and may form as crystals in the cracks and crevices in a wide variety of agates. Druzy can be enhanced to change its color, including by electroplating or vacuum coating (processes that bond a thin layer of metal to the surface of the crystal). Druzy may also be enhanced to change its color, including by electroplating or vacuum coating (processes that bond a thin layer of metal to the surface of the crystal). Shop Druzy Agate Beads
Our "Dzi" Agate beads are genuine agate beads that have been heat treated, dyed, sanded, laser etched, and faceted to mimic ancient Dzi stones found in India, Tibet, and other Asian countries between 1000 and 2000 BC. The treatments to these stones are permanent. Reproduction Dzi beads (sometimes called "Mock Dzi" beads) look great mixed with trade beads as well as modern beads. Shop "Dzi" Agate Beads
Fired Agate beads (sometimes known as crackled agate beads) have a crazed or crackled surface that is created by applying heat. Heat-treating agate with various colorants is also a common method of enhancing the color of agate, so sometimes the name Fired agate refers to brilliantly multi-hued color-enhanced agate beads.
Fired Agate beads do not offer the "fire" (or flash) seen in precious fire agate or opal, and fired agate is not related in any way to true fire agate from Mexico. Nevertheless, the crackled or vividly colored appearance of these agate beads adds an attractive extra element to handmade jewelry! Shop Fired Agate Beads
Laguna Lace Agate gemstone beads: Laguna Lace Agate is a lacy variety of banded Chalcedony, in the Quartz family. Its layers contain shades of scarlet, deep red, milky white, gray, yellow, gold and brown. Usually banded in layers, or stripes, some beads have specks of color, "eye" markings, or may even be solid. The lace-like patterns often have translucent layers. Laguna Lace Agate is not always available, so order now while supplies last.Shop Laguna Lace Agate Beads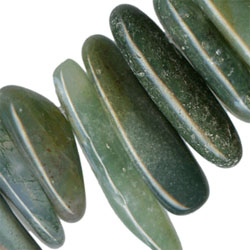 Moss Agate: Also known as mocha stone beads, moss agate beads contain dense inclusions of green hornblende, a basic silicate mineral.
These semiprecious gemstone beads and donut pendants provide lush green hues reminiscent of Pacific Northwest rainforests and the Irish countryside. Because of its color, moss agate is said to enhance a love of nature, cleanse the soul, and help restore a sense of wit. Many of these gemstone beads and donuts are limited to stock on hand, so don't wait to buy and be sorry later! Shop Moss Agate Beads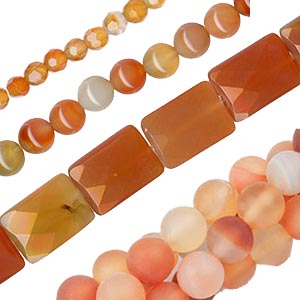 Natural Agate beads add a warm glow to jewelry creations, from the glow of a hearth fire in winter, to the glow of a beach sunset in summer! Also known as Multicolor Carnelian, our Natural Agate beads offer shades ranging from deep orange to bright orange, butterscotch, yellow, and cream. Choose from a wide selection of beautiful Natural Agate semiprecious gemstone beads, plus (occasionally) a few natural agate gemstone donut focals or other pendants.
Other colors of agate beads in our website are also natural and untreated (except when noted), but this particular shade (that's similar to carnelian) is traditionally called Natural Agate. Shop Natural Agate Beads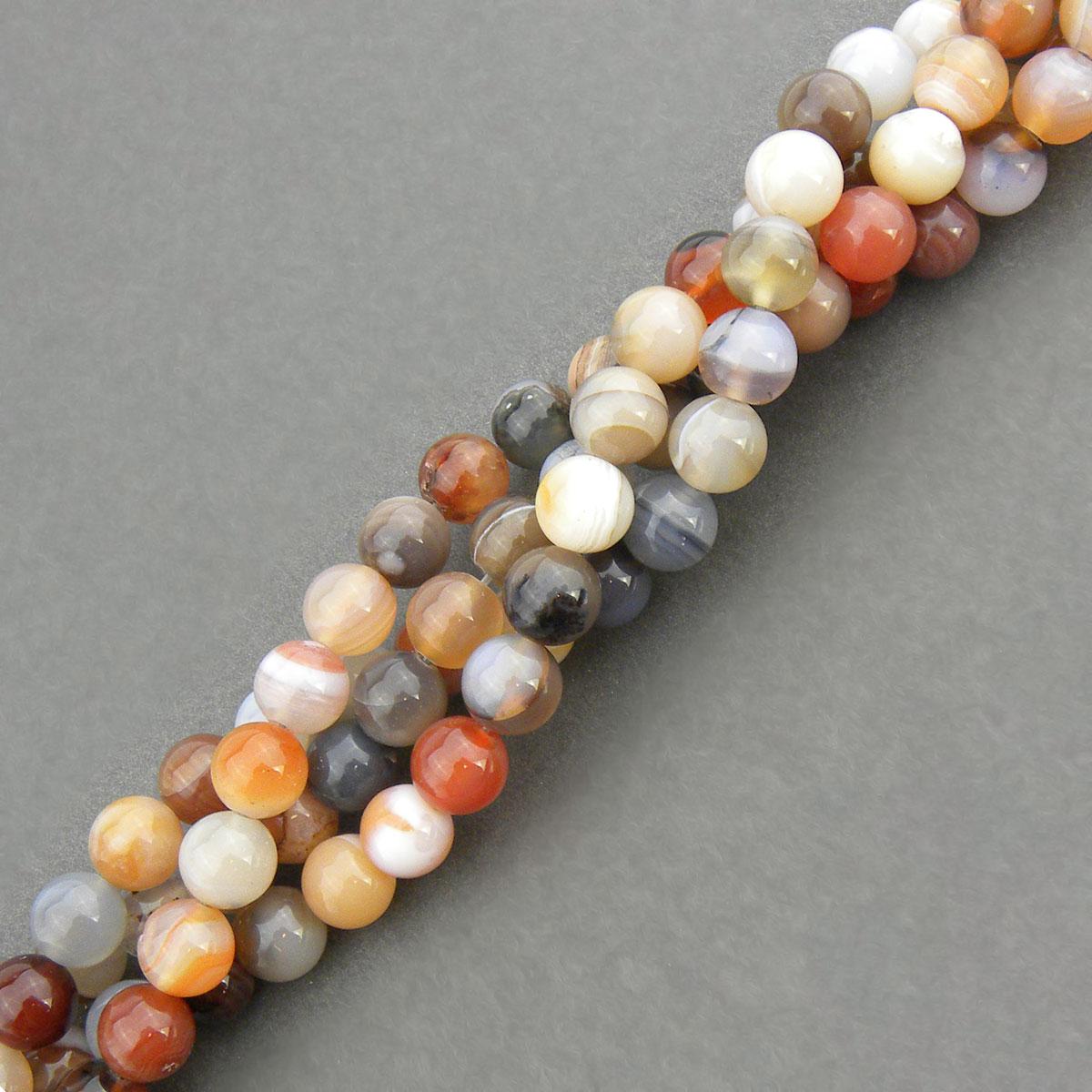 Persian Gulf Line Agate beads have many of the favorite features of agate: Lovely layered stripes and swirls of mostly-translucent oranges, reds, browns, grays, peach, cream and white. These colors are beautiful in Autumn-inspired jewelry, and for the root, sacral and solar plexus chakras (stability & grounding, pleasure & creativity, and self-esteem & confidence).
Rainforest Agate beads feature beautiful natural markings in warm, earthy colors of the forest: various shades of green plus tan, brown, peach, and orange. Sometimes called peacock jasper, these semi precious gemstone beads add a lush feel to bracelets, necklaces, and gemstone jewelry of all types. Shop Rainforest Agate Beads
Terra Agate, similar to "Dzi" agate, begins with natural agate, which is then enhanced with a combination of heat, permanent dye, sanding and laser etching. The result is a lovely blue-green stone with translucent and opaque swirls, layers of beige and terra cotta, and subtle etched and fired patterns. Shop Terra Agate Beads
Thunder Agate beads (not always available) boast similar properties to Lake Superior agate (the official gemstone of the state of Minnesota). Similarities include rich coloring with tones of tan, gray and brown often highlighted by accents of yellow, orange and red. It is the iron content in these semiprecious beads -- and how much that iron has oxidized -- that determines the coloring. Please keep in mind that our thunder agate gemstone beads are patterned by Mother Nature and each bead will have its own patterns and color variations.
Our Bead Blog
Created by: Guest Designer Deb FlorosSuggested Supplies 1 #21-000-043-79 Black Stone Beads, 8x12mm

Created by: Guest Designer Deb FlorosSuggested Supplies 1 #28-684-196 Handmade 12mm Ceramic Peace S

Created by: Guest Designer Deb FlorosSuggested Supplies 1 #AMIET-7 TOHO Amiet Beading Thread, Teal