Go Zags - March Madness Bracelet
Created by: Summer Melaas
Designer Tips
Stamp the tag with 3mm letter stamps. For longer team names, use a larger tag or smaller set of stamps. See Metal Stamping 101 for detailed stamping instructions. If you're new to stamping, get a few extra tags, as stamping can be unpredictable and there may be mess ups.
Place crystal stones in bezels, and carefully bend prongs down using fingers and/or nylon-jaw pliers.
Add a large round jump ring to the basketball charm. For best way to open and close jump rings, see Jump Ring Hint in Jewelry Basics 101 (PDF)
Use 2 small oval jump rings to attach the stamped tag to the basketball. Oval jump rings can be more secure, because the opening remains at the side of the jump ring.
Use an oval jump ring to attach each crystal charm to the bracelet.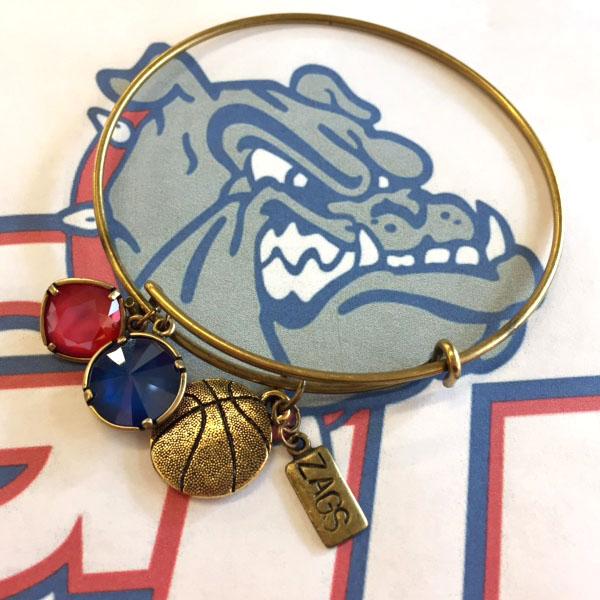 Suggested Supplies
Many colors of Swarovski crystals are no longer available. However, we've kept this project in our repertoire for those of you who stocked up when you learned that they were exiting the DIY market, as well as those of you who are using alternate rivolis and cushion squares -- these settings fit rivolis and cushion squares made by a wide variety of other manufacturers. Shop all Bezels and Crystals.
Tools
Our Bead Blog
Created by: Guest Designer Deb FlorosSuggested Supplies 1 #21-000-043-79 Black Stone Beads, 8x12mm

Created by: Guest Designer Deb FlorosSuggested Supplies 1 #28-684-196 Handmade 12mm Ceramic Peace S

Created by: Guest Designer Deb FlorosSuggested Supplies 1 #AMIET-7 TOHO Amiet Beading Thread, Teal