Green and Gold Bracelet Tutorial
Created by: The R&T Showroom Team


Designer Tips
Place crystal stones in bezels, and carefully bend prongs down using fingers and/or nylon-jaw pliers.
Add a large round jump ring to the football charm. For best way to open and close jump rings, see Jump Ring Hint in Jewelry Basics 101 (PDF)
Select a "G" for your favorite Wisconsin team, or an O for Oregon. Use a jump ring to attach each charm to the clasp of the bracelet.
The bracelet is oval, rather than a round bangle. Attaching the charms to the clasp, and hooking the clasp at the top of your wrist, keeps all the charms nicely visible, instead of sliding down under the wrist to the bottom of the bracelet.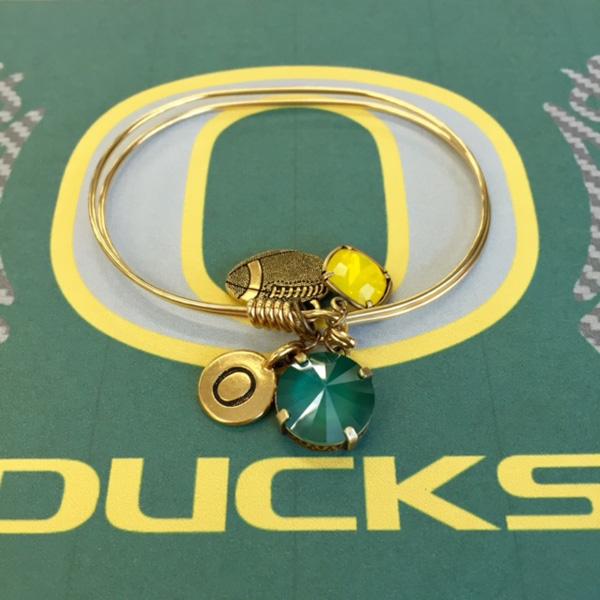 Suggested Supplies
Tools
Nylon-Jaw Pliers (can be purchased separately, or in a set)
Basic Jewelry-Making Pliers (can be purchased separately, or in a set)

Our Bead Blog
Created by: Guest Designer Deb FlorosSuggested Supplies 1 #61-130-05-01 Greek Leather Cord, 1.5mm,

Created by: Guest Designer Deb FlorosSuggested Supplies 1 #20-111-223 TOHO Glass Seed Bead, Size 11

Created by: Guest Designer Deb FlorosSuggested Supplies 1 #21-000-043-79 Black Stone Beads, 8x12mm