Have It Your Way | Earrings Tutorial
Created by: Polly Nobbs-LaRue
I couldn't decide whether I liked the longer earrings, or the shorter (layered) design - so I went with both! The shorter design would also be great as a pendant (with or without the heart). There are so many options with these components: Both colors of Bello (manmade) opals are beautiful and full of fire, or you can sub your favorite gemstone charm or beaded drop, or make bespoke birthstone jewelry. I went with mixed metals, because I prefer silver, and the opal charm is only available in 14kt GF at this time. You could use all gold, or switch to all silver if using sterling charms. The cascading links are technically stacking rings (for your fingers).
Designer Tips
Long Earring (a bit over 3" including ear wire):
Because this is such a long earring, I went with a petite ear wire for this design - but if long earrings are your thing, you can use the same ear wire as the blue earring.
Use bent chain-nose pliers to open the loop on the ear wire just enough to add the white opal charm and largest link (size 10, approx. 22mm). Make sure your opal charm is facing forward before closing the loop.
Use 1 pair of bent chain-nose pliers, and one pair of round-nose pliers (or your other favorite pliers) to open a sparkle jump ring. Connect a mid-size link to the large link. I used size 5.5 (18mm) but another similar size would also be fine.
New to jewelry-making? See Basic Jewelry-Making Technique Sheet (PDF) for tips on securely opening and closing jump rings. Tip: If you have trouble with thin charms sliding out of your jump rings, invest in a hands-free magnifier so you can see if your jump rings are all the way closed or not.
Use another jump ring to add the smallest link. If hearts aren't your thing, stop there! Otherwise, use a final jump ring to add the heart charm.
Technically this heart charm is a blank for stamping/ embellishing, so you may need to give it a light touch-up with a polishing cloth. My favorite is the "Ultra" polishing pad by EURO TOOL -- be careful not to over-polish. Gold-fill is tough, but it is possible to buff or sand right through (which would mean you just buffed your way through 10% of the thickness of the charm.)
Shorter Earring (a bit over 2" including ear wire):
I went with a different ear wire for this earring, because the ball-end ear wire isn't designed for this step:
Use a pair of chain-nose pliers (bent or regular) to grasp the ENTIRE loop of the ear wire. Gently twist it exactly 90 degrees, so all components will face forward.
Open a sparkle-wire jump ring and add the blue Bello opal charm, and the 2 larger links (size 10 / 22mm, and size 5.5 / 18mm).
Use another sparkle wire jump ring to add the heart charm to the bottom of the largest link.
More customization options: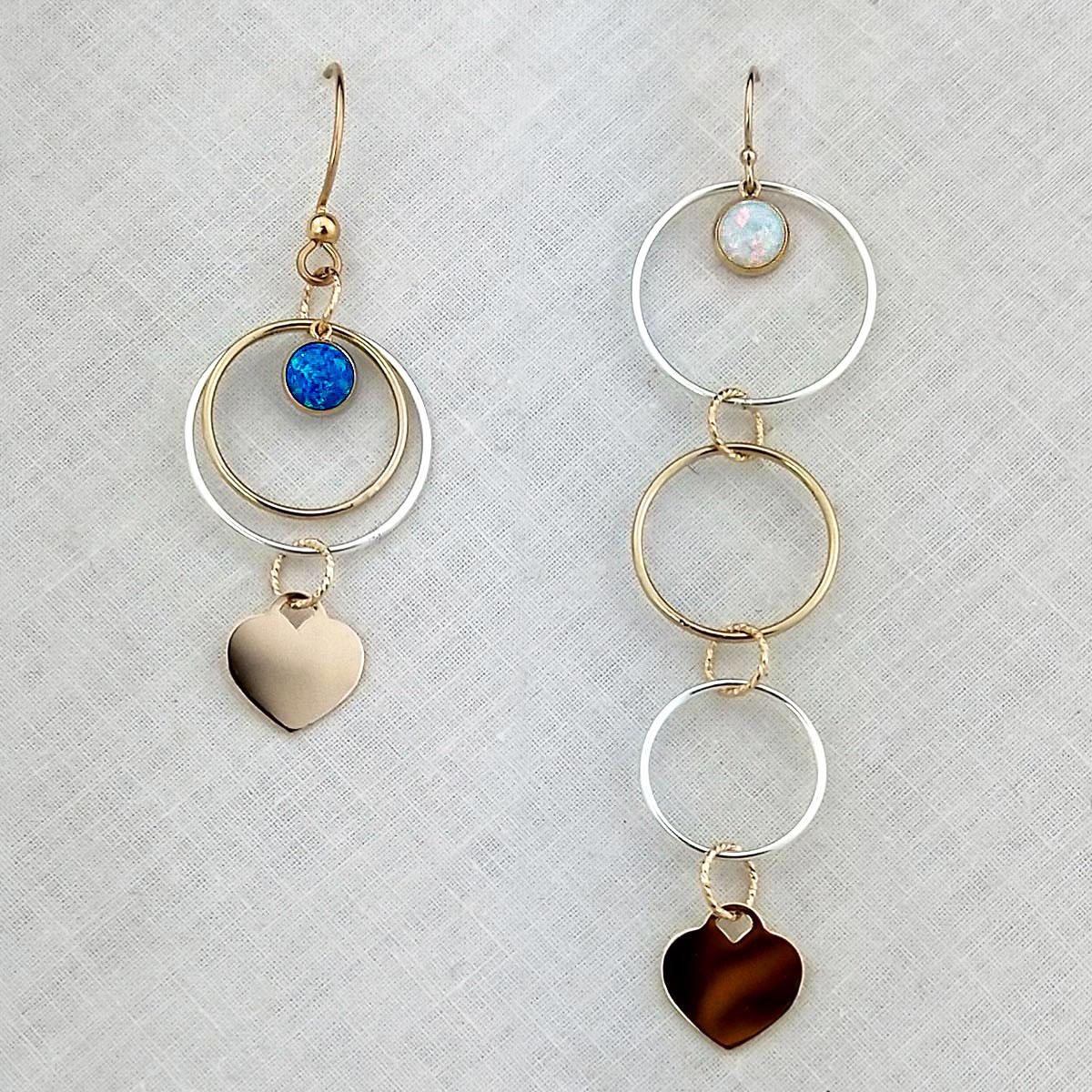 Supplies listed are for a whole identical pair of earrings, although the instructions above are for 2 unique single earrings.
Suggested Supplies for Longer Earrings
Suggested Supplies for Longer Earrings
Tools
Our Bead Blog
Created by: Guest Designer Deb FlorosSuggested Supplies 1 #61-130-05-01 Greek Leather Cord, 1.5mm,

Created by: Guest Designer Deb FlorosSuggested Supplies 1 #20-111-223 TOHO Glass Seed Bead, Size 11

Created by: Guest Designer Deb FlorosSuggested Supplies 1 #21-000-043-79 Black Stone Beads, 8x12mm