I love My Dog Bracelet Tutorial
Created by: TierraCast


Designer Tips
Pre-stretch cord by pulling firmly from both ends a few times.
Attach small binder clip or bead stopper 2-3" from one end of stretch cord.
On other end of cord string bail, *one 4mm bead and one paw bead*. Repeat * through * three times.
String 32 4mm gemstones or firepolish glass beads of your choice. (Tip: Three 4mm gemstones or Czech beads equals approx. 1/2". Instructions create a 7" bracelet. Adjust bead count accordingly for desired size.)
Remove bead stopper and tie ends together in a Surgeon's Knot. Tighten securely, pulling cords from all directions to make sure knot is secure.
Thread one end of cord back through bail to hide knot inside, then carefully trim cord ends.
Optional: apply a small amount of clear nail polish or G-S Hypo Cement to knot and allow to dry.
Open one jump ring and attach to bail. Before closing, add Spot charm. Close jump ring.
Open one jump ring and attach to Love My Dog charm. Before closing, attach to jump ring placed in Step 8. Close jump ring.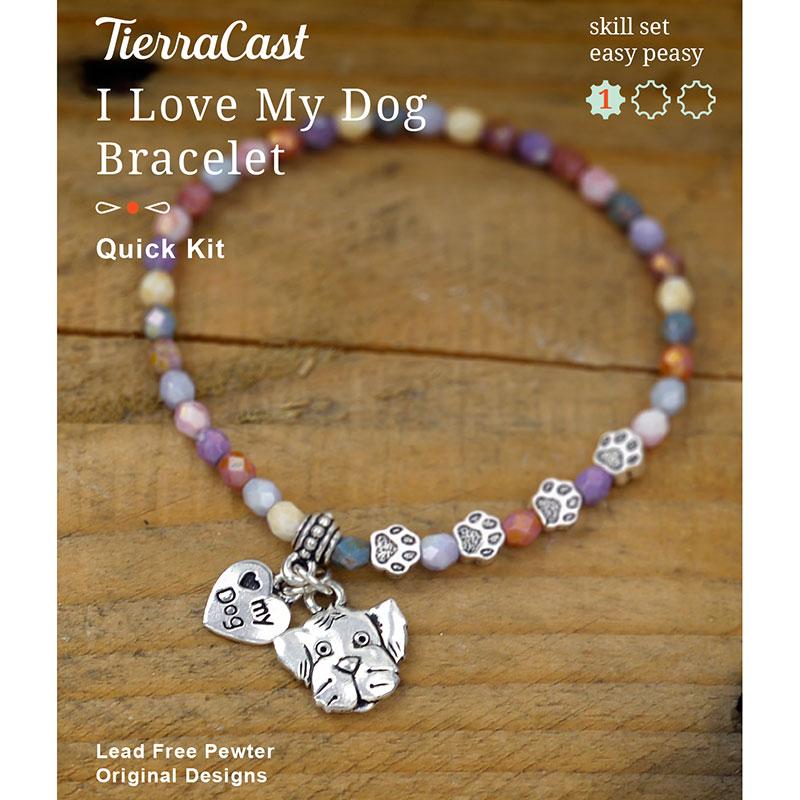 Suggested Supplies
Tools
bead stopper or small binder clip
#69-275-03 Wubbers Chain-Nose Jewelry Making Pliers
clear nail polish or G-S Hypo Cement (optional)
Our Bead Blog
Created by: Guest Designer Deb FlorosSuggested Supplies1 #AMIET-15 TOHO Amiet Beading Thread, A

Created by: Guest Designer Deb FlorosSuggested Supplies1 #56-216-36-3 Instant Pendant with Screw-On

Created by: Guest Designer Deb FlorosSuggested Supplies 1 #61-130-05-01 Greek Leather Cord, 1.5mm,