Impression COPPRclay Bracelet Tutorial
Created by: Sondra Barrington
Designer Tips
Create the COPPRclay links according to the manufacturer's instructions. Like most other metal clays, COPPRclay must be fired in a kiln. COPPRclay shrinks approximately 20% from package to finished product.
Use common household items to deeply texture clay.
Apply WinOx with a cotton swab, allow to dry, and remove excess on high points with sanding sponges.
Free Technique Sheets & How-Tos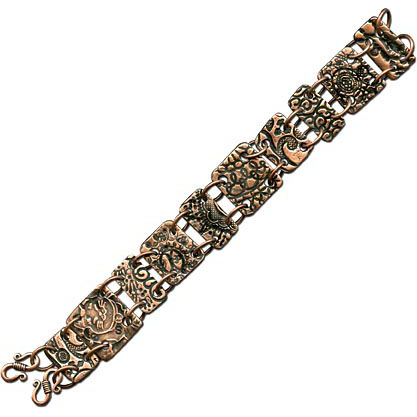 Suggested Supplies
0.5 gr [use 2] #39-175-02-7 Clasp, Cast, S, Wrapped (Antiqued Copper Plated)
1 ea #87-100 COPPRclay®, Combo Pack (Copper)
1 oz [use 22] #37-178-7Jump Ring, Round, 10mm (Antique Copper Plated)
Tools
Additional Supplies
Assorted household texturing tools (plastic doilies, rubber stamps, vintage jewelry, etc)

Cotton swabs from grocery or drug store
Furniture Kit, For SC-2 Kiln
Kiln, Caldera with glass window

Our Bead Blog
Hello, fellow crafters and DIY jewelry enthusiasts! Today, we delve into an essential aspect of neck

This olivine variety is composed of magnesium iron silicate. Peridot (pronounced PEAR-ih-doh or PEAR

Save time with pre-drilled blanks and create a pair of fun earrings with size 11/0 TOHO or Delica se