Infinitely Simple Seed Bead Bracelet Tutorial
Created by: Veronica Greenwood
Designer Tips
These bracelets follow the step-by-step illustrated instructions from Tiffany's 2015 Beaded Infinity Knot Bracelets project in Rings & Things' blog, but updated with new colors, and with tiny faceted gemstones mixed in with the seed beads. One other change, is that Veronica used 6mm gemstone beads at the end, instead of covering the crimp beads with a crimp cover.
There's no right or wrong combination -- use 1 or 2 colors, or a whole ombre rainbow!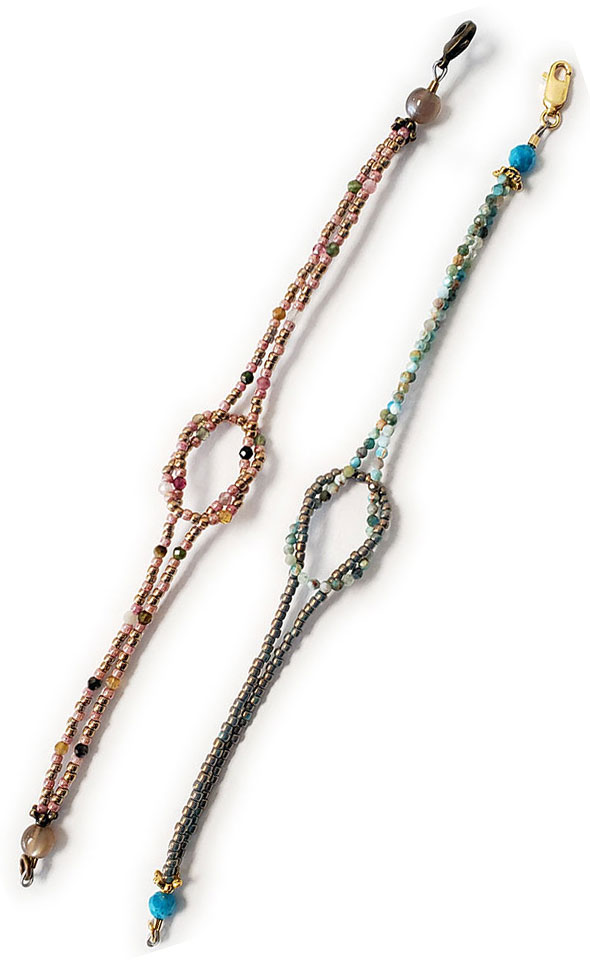 Suggested Supplies for Pink Bracelet
Suggested Supplies for Blue Bracelet
Tools
Nippers or Wire Cutters
Crimping Pliers
Round-Nose Pliers
Chain-Nose Pliers
Optional Supplies:
Veronica used 2 6mm sunstone gemstone beads for the ends of the pink bracelet, but those aren't always available, so she says that 6mm Vintage Rose Swarovski crystals would also work great.
Our Bead Blog
Created by: Guest Designer Deb FlorosSuggested Supplies 1 #21-000-043-79 Black Stone Beads, 8x12mm

Created by: Guest Designer Deb FlorosSuggested Supplies 1 #28-684-196 Handmade 12mm Ceramic Peace S

Created by: Guest Designer Deb FlorosSuggested Supplies 1 #AMIET-7 TOHO Amiet Beading Thread, Teal