Interchangeable Constellation Bangle Bracelet Tutorial
Create sparkling constellation jewelry in an hour, using minimal supplies and Swarovski Ceralun Ceramic Epoxy Clay, Crystal Clay, or your favorite epoxy clay.
This quick-change bracelet form allows you to change the focal piece as often as you like. For this project, we have selected two centerpieces.
Created by: Sondra Barrington
Designer Tips
Begin by choosing constellations from a preferred book or website, to use as reference.
For step-by-step instructions, see our blog article: Constellation Jewelry Using Ceralun Clay
You have some options for sizing this bracelet:
The Cuff Bracelet comes in 3 sizes, and there are also larger 2-Loop Bezel Connectors available.
Click into the details of any item below for alternate sizes / colors.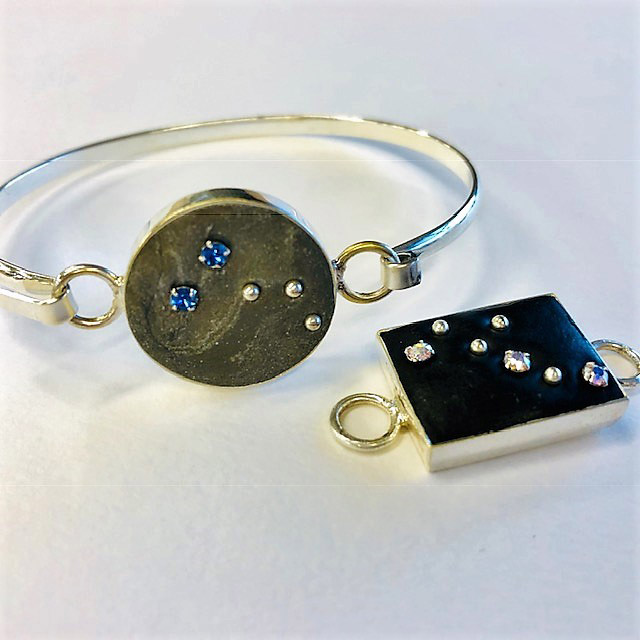 Suggested Supplies
1 each #51-743-3 Amate Studios Silver Plated Bracelet Component, Cuff, Large
Crystal Chatons in your choice of colors (to replace the out-of-production Swarovski crystal head pins)
For Solid Background in Rectangle Bezel:
For Swirled Background in Round Bezel:
Tools
Other Supplies
Apron: To protect clothes
Moist Wipes: For smoothing clay and tidying up
Paper: A few sheets to protect your work area
Toothpicks/Skewers: For manipulating clay
Plastic Container with Lid: To cover pieces during curing
Alcohol Swabs: For cleaning bezels
Constellations pair well with crystals, birthstones and zodiac charms. Add a few to your finished jewelry design!
Our Bead Blog
Created by: Guest Designer Deb FlorosSuggested Supplies 1 #21-000-043-79 Black Stone Beads, 8x12mm

Created by: Guest Designer Deb FlorosSuggested Supplies 1 #28-684-196 Handmade 12mm Ceramic Peace S

Created by: Guest Designer Deb FlorosSuggested Supplies 1 #AMIET-7 TOHO Amiet Beading Thread, Teal