Lotus Flower Yoga Bracelet Tutorial
Learn how to make this beautiful yoga bracelet featuring gemstone beads, rosewood mala beads, TierraCast spacers, and a Nina Designs lotus charm.


Created by: Mollie Valente
Steps to Make this Yoga Bracelet
For an illustrated version of these instructions, see Mollie's blog article.
Measure and cut the Stretch Magic cord. Cord length should be wrist size plus 4".
String the charm and position it in the middle of the cord. On each side of the charm, string one metal rondelle bead and one 5mm nugget heishi bead. Add the Bead Stopper to one side of the cord.
The color of the gemstone beads varies, so take a moment and plan your bead design before stringing. Then, string one 8mm gemstone bead followed by one 5mm nugget bead. String this pattern three times, then end with an additional 8mm gemstone bead.
Secure the cord with a Bead Stopper on the beaded side of the bracelet. String beads on the opposite side of the bracelet, matching the original pattern.
Continue beading: String on two 7mm nugget heishi beads, then string an alternating pattern of one 8mm Mala bead, followed by one 7mm nugget bead. Repeat this pattern five times.
Secure the beaded side with a Bead Stopper. String beads on the opposite side of the bracelet, matching the pattern in Step 4. Vary the number of wooden Mala beads and 7mm nugget heishi beads to achieve your desired bracelet length.
Remove the Bead Stopper and hold the ends of the Stretch Magic cord securely to form a circular bracelet. Secure the cord with a knot (square knot, surgeon's knot, or a few over-hand knots). To tighten the knot, pull the cord tails and stretch the bracelet. Clip the cording about 1/8" from the knot.
Secure the connection by applying GS Hypo Cement to the knot. Use the super-fine applicator to generously coat the knot, and then slide the knot into the center of a wooden Mala bead and allow it to dry. Now the knot is secure, protected, and hidden.
Free Technique Tips & How-Tos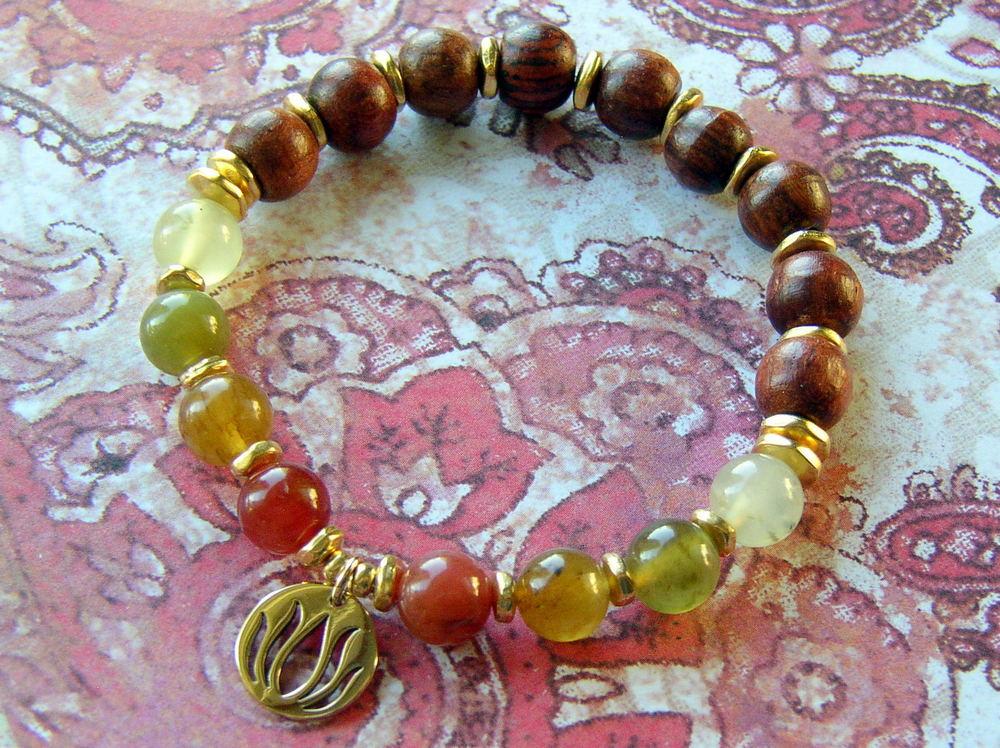 Suggested Supplies
Tools
Our Bead Blog
Created by: Guest Designer Deb FlorosSuggested Supplies 1 #21-000-043-79 Black Stone Beads, 8x12mm

Created by: Guest Designer Deb FlorosSuggested Supplies 1 #28-684-196 Handmade 12mm Ceramic Peace S

Created by: Guest Designer Deb FlorosSuggested Supplies 1 #AMIET-7 TOHO Amiet Beading Thread, Teal