M is for Monogram Necklace Tutorial
Created by: Mollie Valente
Designer Tips
Fabricate the BRONZclay focal according to the manufacturer's instructions. Like many other metal clays, BRONZclay must be fired in a kiln.
BRONZclay shrinks approximately 20% from package to finished product. When you create your pieces, keep this in mind.
If you also work with Art Clay™ Silver (ACS), your ACS tools and work surfaces must be kept separate from the tools and surfaces that you use with BRONZclay. The materials do not work well together, and you will get some unwanted results if you use the same tools and work surfaces for both.
Free Technique Sheets & How-Tos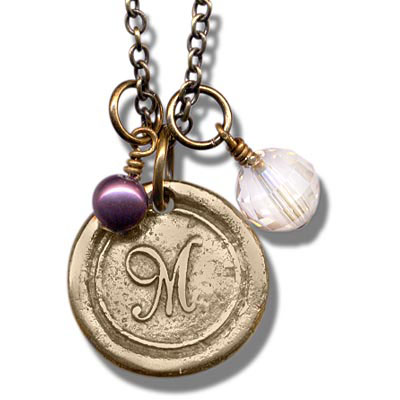 Suggested Supplies
Tools
Additional Supplies
A kiln appropriate for firing bronze clay
Metal clay tools dedicated for use with bronze clay
Monogram wax seal of your choice (or, use a large alphabet stamp.
Our Bead Blog
Created by: Guest Designer Deb FlorosSuggested Supplies 1 #61-130-05-01 Greek Leather Cord, 1.5mm,

Created by: Guest Designer Deb FlorosSuggested Supplies 1 #20-111-223 TOHO Glass Seed Bead, Size 11

Created by: Guest Designer Deb FlorosSuggested Supplies 1 #21-000-043-79 Black Stone Beads, 8x12mm