Metal Clay 101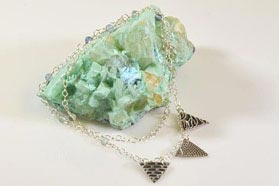 Learn the basics of what metal clay is, and how to make your own custom beads, jewelry findings, and small art objects with this exciting craft medium. Find details about various brands including firing schedules and usage tips for Art Clay Silver (ACS silver clay), Precious Metal Clay (PMC silver clay), WHITE COPPRclay, original COPPRclay brand copper clay, and BRONZclay brand bronze clay. You can also
shop our line of metal clays (while they last!)
and
firing supplies
.
What is Metal Clay?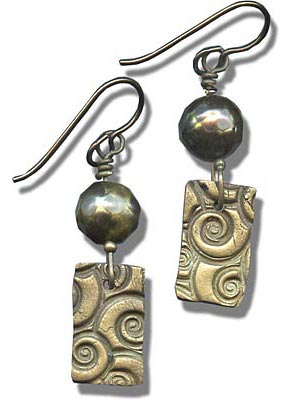 Metal clays consist of powdered real metal (silver, gold, copper, or bronze) mixed with organic binders and water to create a soft clay that can be manipulated by hand as well as with shaping tools and molds. Once the clay is manipulated into the desired design, it is fired. During firing, the binders burn away and the particles of metal fuse together, creating a solid metal object. This process of turning powders into solids is called sintering.
Metal clay created a revolution in jewelry arts and crafts production when it was invented in Japan in 1990. For the first time, actual metal could be manipulated like pottery clay! This direct design process has opened up metalworking to many more people.
Basic pottery skills are all you need to get started. For more adventurous metalworkers, traditional metalworking skills can be employed on pieces after they are fired.
Some metal clays can be fired with a gas stove or butane torch, while others require the use of a kiln. For details on firing options, see Types of Metal Clay below. To shop for firing supplies, see our full line of torches, kilns & firing supplies.
Are Metal Clays "Green"?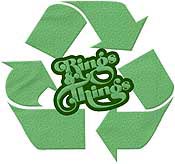 While no metalworking process is completely earth-friendly, metal clays do contain recycled metals recovered from discarded computer circuit boards, photographic supplies, used household goods, and other castaways. Reclaimed metals from these sources are powdered and combined with non-toxic, organic binders to create metal clay. Care is taken in this process to make safe products for artisans and crafters to use.
Tips for Working with Metal Clay
As you begin having fun with metal clay, use the following tips to help you:
Metal clay objects will shrink a small percentage once fired. Why? Because once the water and organic binders burn off, there is less material left to form the finished object. The percentage of shrinkage depends on the brand and type of metal clay. As you plan your designs, accommodate for shrinkage by creating your wet piece slightly larger than you want your finished piece to be.
Metal clays will dry out when exposed to air. Once you've opened a package, store any remaining clay in an airtight container. Small screw-tight cosmetic containers and pill bottles work well (add a few drops of water as necessary). Our container with sponge is a great option, or you can wrap clay scraps in cling film then close them in sealable sandwich bags with a damp cloth or paper towel.
When you take out a lump of clay to work with, only take out as much as you intend to use right away. If the clay begins to dry out while you're still working with it, use a misting spray bottle or water-soaked brush to return moisture to the clay. Apply water until the clay's surface is evenly moist. You can re-hydrate dried-out clay by adding a few drops of water and storing the clay in an airtight container.
Prevent your hands from sticking to wet clay by applying a thin layer of olive oil to your hands.
Methods used to shape metal clays include techniques and tools used for polymer clay and pottery clay, as well as those used in traditional metalsmithing.

Wet clay can be pinched, rolled, and shaped with texture plates, pattern stamps, molds, stencils, cutters, sculpting tools, and other clay shaping tools.
Pre-fired dry clay can be carved, sanded, burnished, filed, engraved, drilled, and pre-polished.
Fired clay can be treated as you would treat any solid piece of fine silver, bronze, or copper. It can be drilled, sanded, sawn, soldered, and/or oxidized using traditional jewelry tools and techniques.

Embed findings, wire, and other objectsonly into varieties of metal clay that can be fired at low enough temperatures to not damage the embedded objects (see types of metal clay for specifics). Embeddable eyelets make it easy for you to create custom pendants and earring dangles. Fine silver wire, bronze wire, and copper wire can also be used to create hooks, loops, embellishments, and connectors.
Make hollow objects with core cork clay (kiln required). Cut, mold, and shape the cork as desired. Allow the cork to thoroughly dry, then cover with metal clay and kiln fire at a low temperature. Art Clay's cork clay PDF provides instructions for using cork clay with Art Clay Silver.
Clean your tools promptly after each use, and save scraps of wet clay for reuse. It might not seem like much clay is getting salvaged each time, but it can add up to a lot of saved money - especially with silver clay!
Dedicate one set of tools for silver clay, and a separate set of tools for base-metal clays, like copper clay and bronze clay. Silver clays and base-metal clays do not work well together before being fired. You will get unwanted results if the wet clays get mixed together.
Avoid using aluminum tools with metal clay. This is most important when using silver clay, since aluminum contamination will prevent silver clay from properly sintering. Symptoms of aluminum contamination in silver clay include discoloration, warping, flaking, and brittleness. Aluminum reacts with other metal clays as well, so for the best results, avoid using aluminum tools for any metal clay projects.
Follow manufacturer's instructions carefully. This is important to get good results, regardless of which brand or type of metal clay you choose. Find details and instructions for each brand below.
Types of Metal Clay
Art Clay Silver (ACS) offers several types of .999 fine silver clay, including their original clay, syringe (more moist than clay but less moist than paste), paste, and oil paste.In 2013, they introduced all new formulas that combine the best of previous formulas with a slower drying time and expanded temperature range for firing. These new formulas feature a lower shrinkage rate, at 8-10% shrinkage.
All types of Art Clay Silver, except some applications of ACS paste, oil paste and discontinued silver paper, can be fired with a torch or gas stove - you do not need a kiln for most Art Clay creations! For help choosing which butane torch will work best for you, check out our blog post "Micro Butane Torches for Jewelry".
Art Clay Silver Instruction Sheets
For details about ACS firing schedules, shrinkage rates, and techniques, click and print the following PDFs.
Precious Metal Clay (PMC) was the first brand of metal clay, and it offers various forms of .999 fine silver clay including their original clay, PMC3, syringe (more moist than clay but less moist than slip), slip (paste), and PMC+ (PMC Plus). Shrinkage rates range from 8-18%, depending on the type (see below for details). Precious Metal Clay works best if kiln fired.
PMC3
When fired at 1650° for two hours, this is the strongest fine silver clay available. Well suited for items that will be worn often.
10-18% shrinkage. Offers a smooth, fine composition that's easy to work with and manipulate.
Can be torch fired or kiln fired.
Can be fired with sterling findings and gemstones without them being heat damaged.
Firing temperatures: 1650°F (900°C) for two hours to achieve maximum hardness & durability; or 1110°F (600°C) for 45 minutes; or 1200°F (650°C) for 20 min; or 1290°F (700°C) for 10 min.
PMC+
8-15% shrinkage (average of 12% shrinkage). Shrinks less and has a stronger molecular bond than original formula PMC.
Can be torch fired or kiln fired.
Can be fired with sterling silver findings.
Firing temperature: 1650°F (899°C) for two hours to achieve maximum hardness and durability; or 1470°F (800°C) for 30 minutes; or 1560°F (850°C) for 20 minutes; or 1650°F (900°C) for 10 minutes.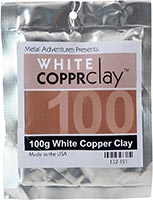 WHITE COPPRclay
is a great, economical way to get started working with metal clay! It consists of a copper-nickel alloy, water, and non-toxic binding materials. The binding materials vaporize during firing, resulting in a silvery-gray metal once the clay is fired. The low price means you can use WHITE COPPRclay to make larger objects like specialty tools, thrown hollowware, and sculptures. It also mean you can make silver-colored jewelry and projects without the high cost of fine silver. White copper clay can be oxidized (patinated) or highly polished to a bright silvery shine. You can layer / combine unfired white copper clay with original copper clay (below) to create beautiful mixed metal patterns like mokume-gane (metal wood grain).
WHITE COPPRclay must be kiln fired, and the shrinkage rate is approximately 20-25%. A two-part firing schedule is recommended. Start with an open-shelf (mesh) firing to burn off the binder, then follow that with a sintering phase in the activated carbon.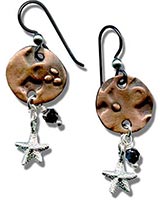 Original COPPRclay
consists of pure copper, water and non-toxic binders. After being fired, pieces made from this brand of copper metal clay copper are almost as dense as cast copper (over 95% density). The
shrinkage rate is approximately 20%
.
Like white copper clay and bronze clay, copper clay provides an economical starting point for learning to work with metal clays. Because of this, copper clay is a great medium for making larger objects (even hollowware on a potter's wheel), as well as beads and jewelry findings. Because the COPPRclay brand is made from pure copper, it can be used as a base for applying enamels as well.
COPPRclay must be kiln fired. To reduce oxidation, they clay must be surrounded by activated coconut-shell based carbon during firing (do not use coal-based carbon on COPPRclay).
For firing schedules, techniques, and how-to tips, click and print the PDF pamphlet "Creating with COPPRclay".
FASTfire BRONZclay is a special formula of bronze metal clay that fires in just 2 hours with full ramp speed. Finished FASTfire pieces are a richer yellow in color than regular BRONZclay creations. FASTfire piece must be surrounded by coconut shell-based activated carbon during firing (do not use coal carbon with FASTfire bronze clay).More economical than silver clay, bronze clay is a great way to begin learning how to use metal clay. Bronze clay can be used for making larger objects (like tools and bowls), as well as beads and jewelry findings. It can even be formed into hollowware on a potter's wheel.
BRONZclay must be kiln fired. To reduce oxidation, the clay must be surrounded by activated carbon during firing. Coconut shell-based carbon produces a light patina, and coal-based carbon produces a colorful more intense range of patinas.
For firing schedules, techniques, and how-to tips, click and print the PDF pamphlet "The Basics of BRONZclay".
Our Bead Blog
Created by: Guest Designer Deb FlorosSuggested Supplies 1 #61-130-05-01 Greek Leather Cord, 1.5mm,

Created by: Guest Designer Deb FlorosSuggested Supplies 1 #20-111-223 TOHO Glass Seed Bead, Size 11

Created by: Guest Designer Deb FlorosSuggested Supplies 1 #21-000-043-79 Black Stone Beads, 8x12mm