Rough Around The Edges Hoop Earrings Tutorial
A drawplate is excellent for hardening soft wire without making it brittle, so custom ear wires and handmade hoops are springy and keep their shape.
Created by: Rita Hutchinson
Designer Tips
Cut a length of 18-gauge Argentium, sterling or fine silver wire a bit longer than the finished product.
Attach the drawplate to the vise.
Use a file to taper wire end, and pull through the drawplate with heavy duty pliers.
Repeat using a smaller hole in the drawplate.
Trim the end of the wire with flush cutters.
Wrap the wire around a pipe or dowel to form hoop shape. Cut two equal segments that each overlap the beginning of the wrap.
Gently hammer with a nylon hammer on a steel block to work harden.
Gently hammer with a ball pein hammer to further harden and texture the wire.

Use a cup bur to round one end of each hoop wire, then hammer-flatten end into a teardrop.
Create a small hole using an awl through the flattened end of wire into a piece of heavy card stock.
String the beads onto each hoop.
Using chain-nose or flat-nose pliers, bend the non-flattened end of wire sharply up 90 degrees, and smooth end with a cup bur.
Refine the hole with a bead reamer to make it just barely larger than wire end.
Polish.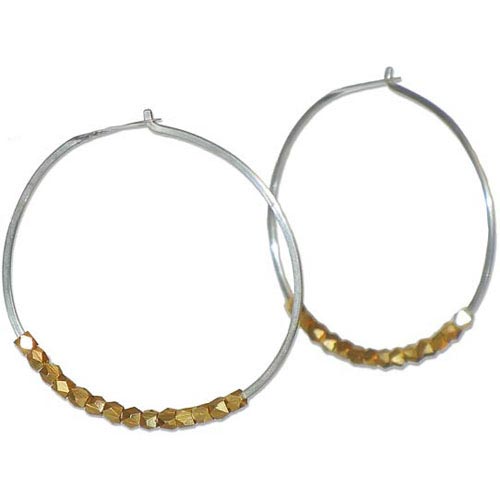 The most popular size of wire for ear wires in the United States is approximately 21-gauge. So why use 18-gauge wire and a drawplate, instead of just using 21-gauge wire? Have you noticed that store-bought ear wires and hoops are springier than either dead soft or half hard wire? Pulling wire through a drawplate makes the wire springy, so it can flex side to side as needed when putting earrings into your ear, and then it springs back into place. This makes hoops easier to open and close, and it keeps ear wires from being brittle or too-easily bent out of shape.
Suggested Supplies
1 strand [use 28] #26-830-0 Bead, Brass, Faceted Cube, 2.5mm
1 ozt [use 11"] #64-820-18 Wire, Argentium® Round, Dead Soft, 18ga
Tools
Additional Supplies
Card stock
Fine grit sandpaper
Heavy duty pliers
Length of pipe (Approx. 1.5" diameter)
---
If that sounds like too much work, you might be interested in ready-to-wear (or ready-to-embellish) earring hoops:
Our Bead Blog
Hello, fellow crafters and DIY jewelry enthusiasts! Today, we delve into an essential aspect of neck

This olivine variety is composed of magnesium iron silicate. Peridot (pronounced PEAR-ih-doh or PEAR

Save time with pre-drilled blanks and create a pair of fun earrings with size 11/0 TOHO or Delica se