Shining Stars Lashed Earrings Tutorial
Created by: Mollie Valente

Designer Tips
For a version of this project with step-by-step images, check out Mollie's How to make Lashed Kidney Wire Earrings blog post.
Choose two matching rivoli stones from the assortment. This design uses two 14mm Light Colorado Topaz rivolis (perfect for November birthdays). Most colors of Swarovski crystals are no longer available, but these settings also fit Preciosa, Matubo and other brands of pointed-back rivoli stones.
Insert a rivoli stone in a setting and use round-nose pliers to pinch the setting closed.
Straighten the bend in the ear wire tail.
Cut a 4" section of 26-gauge wire and make three tight coils on the kidney wire near the loop. Use semi-flush side cutters to cut the beginning wire section off flush with the kidney wire.
Add a crystal bicone bead to the kidney wire. Pull the wire across the bead and add three more tight coils.
Repeat with two more bicone beads; add a final three coils and cutting the tail off flush with the kidney wire.
Add the rivoli setting to the kidney wire and use round-nose pliers to crimp the loop closed.
Repeat to make the second earring.
Free Technique Sheets & How-Tos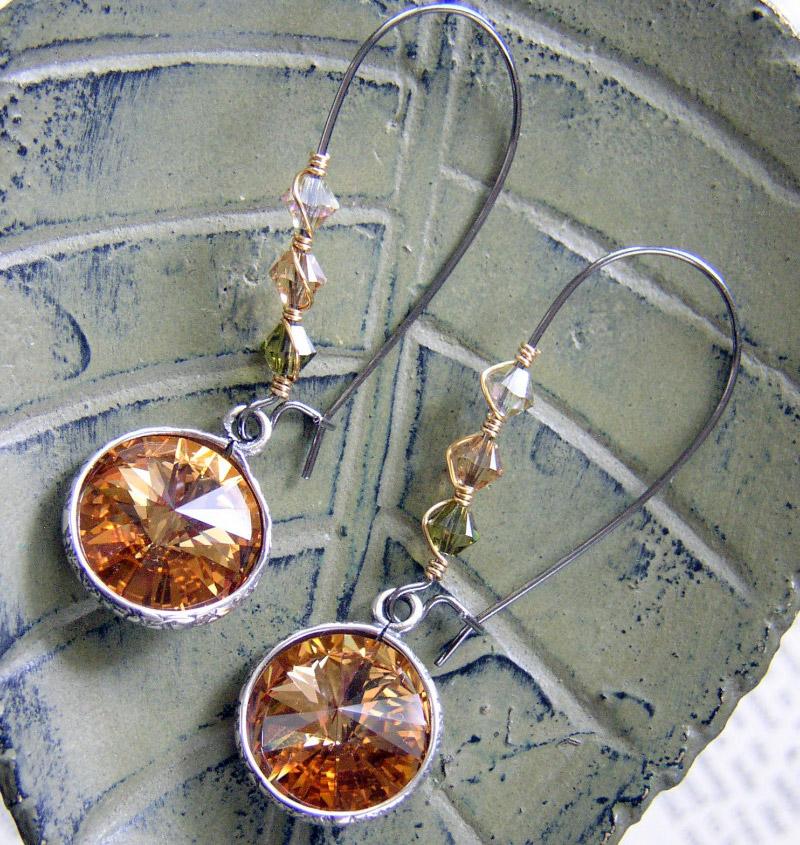 Suggested Supplies
Tools
#69-271-91 Tool, Glitter, Nylon Jaw, Flat-Nose Pliers
#69-271-02 Tool, Glitter, Round-Nose Pliers
#69-271-05 Tool, Glitter, Semi-Flush Side Cutter
Our Bead Blog
Created by: Guest Designer Deb FlorosSuggested Supplies 1 #61-130-05-01 Greek Leather Cord, 1.5mm,

Created by: Guest Designer Deb FlorosSuggested Supplies 1 #20-111-223 TOHO Glass Seed Bead, Size 11

Created by: Guest Designer Deb FlorosSuggested Supplies 1 #21-000-043-79 Black Stone Beads, 8x12mm