Sour Patch Bracelet Tutorial
Created by: Rita Hutchinson
12mm #4470 Cushion Squares by Swarovski are nearly gone, but these settings also work with most other brands of 12mm cushion squares. Shop remaining colors while they last!
Designer Tips
For step-by-step instructions on wire-wrapping loops, and best way to open and close jump rings, see Jewelry Basics 101 (PDF)
Set the crystals in the bezel settings, and press prongs down smoothly over the stones using the nylon jaw pliers.
Link settings together with jump rings.
Add clasp to one end, using a jump ring.
Add desired length of chain to other end.
Add metal bead to head pin and wire wrap directly to last link of chain.
The chain makes this bracelet adjustable, so it fits a variety of wrist sizes. It is best worn snugly, to prevent the crystals from flipping over.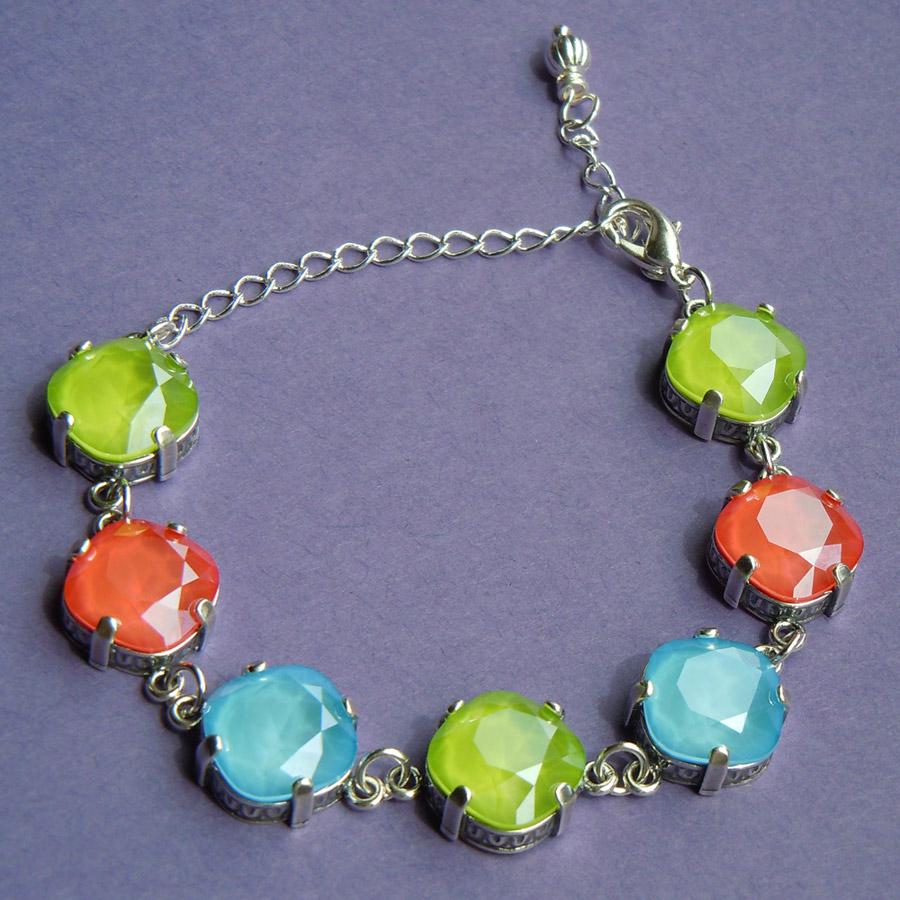 Suggested Supplies
Tools
See March 2021 Swarovski Crystal News
Our Bead Blog
Created by: Guest Designer Deb FlorosSuggested Supplies 1 #21-000-043-79 Black Stone Beads, 8x12mm

Created by: Guest Designer Deb FlorosSuggested Supplies 1 #28-684-196 Handmade 12mm Ceramic Peace S

Created by: Guest Designer Deb FlorosSuggested Supplies 1 #AMIET-7 TOHO Amiet Beading Thread, Teal