Springtime Serenade Bracelet Tutorial
Created by: Veronica Greenwood
Designer Tips
Place one 10mm crystal into one bezel setting and use needle nose pliers to gently bend prongs over crystal. Repeat for all five colors.
Using the 24 gauge wire and 6mm round crystal beads, link the bezel settings together (see Jewelry Basics 101 PDF).
On one side add the lobster to the crystal link.
On the other side add 1in of chain to the crystal link.
Using the oval jump rings attach the two butterfly charms to the chain.
The lobster clasp can hook into any of the heart links, making this an adjustable-length bracelet.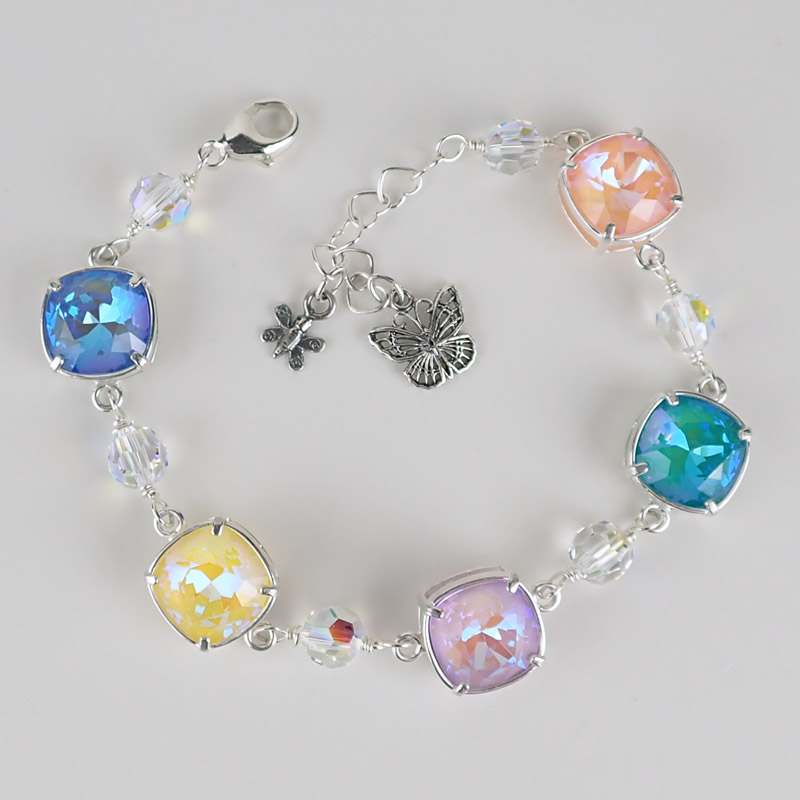 Suggested Supplies
While most Swarovski cushion squares are no longer available, the links below will still take you to our remaining colors... plus we have a feeling that many of you have some stashed away for a rainy day!
Tools
---
Our Bead Blog
Created by: Guest Designer Deb FlorosSuggested Supplies 1 #61-130-05-01 Greek Leather Cord, 1.5mm,

Created by: Guest Designer Deb FlorosSuggested Supplies 1 #20-111-223 TOHO Glass Seed Bead, Size 11

Created by: Guest Designer Deb FlorosSuggested Supplies 1 #21-000-043-79 Black Stone Beads, 8x12mm