Summer Blues Earrings Tutorial
Design by Create Your Style team at Swarovski North America.
Although these weren't designed with September in mind, the colors are perfect for September birthstone jewelry.
Designer Tips
Add one 4mm light sapphire shimmer bicone, one 3mm iridescent dark blue pearl, one 4mm bicone, one 3mm pearl, and one 4mm bicone to a head pin. Make a simple loop. Repeat nine times and set aside. For instructions on making jewelry loops, see Jewelry Basics 101 (PDF)
Using one long-leg ear wire, slide on one 6mm light sapphire shimmer bicone and make a simple loop. Repeat and set aside.
To make earring: Using one component made in Step 1, add to one hole on the bottom of the Ethnic Ring Fan link. Repeat 4 times for the other 4 holes. Add an ear wire made in Step 2.
Repeat for other earring.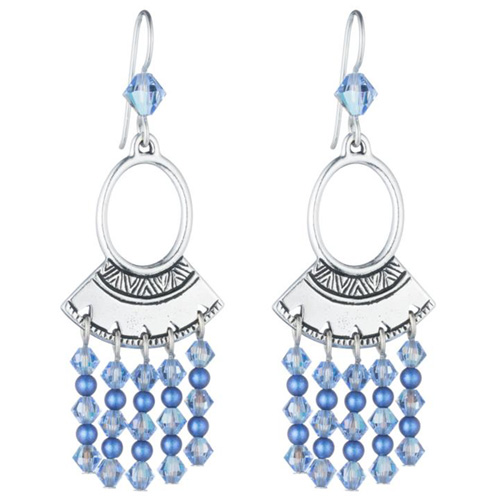 Suggested Supplies
Tools
Round-nose pliers
Flat-nose pliers
Wire Cutters
Our Bead Blog
Created by: Guest Designer Deb FlorosSuggested Supplies 1 #61-130-05-01 Greek Leather Cord, 1.5mm,

Created by: Guest Designer Deb FlorosSuggested Supplies 1 #20-111-223 TOHO Glass Seed Bead, Size 11

Created by: Guest Designer Deb FlorosSuggested Supplies 1 #21-000-043-79 Black Stone Beads, 8x12mm