Summer Cane Slice Earrings Tutorial
Created by: Amy Scalise


Designer Tips
Create a polymer cane using the colors listed or those of your choosing.
To make it easier to cut the cane slices, wait a day before cutting, or freeze the cane briefly (for about 20 minutes).
Use the bezel cup to cut the cane slice to the correct size and shape.
Bake the pieces according to the manufacturer's guidelines.
Glue into place.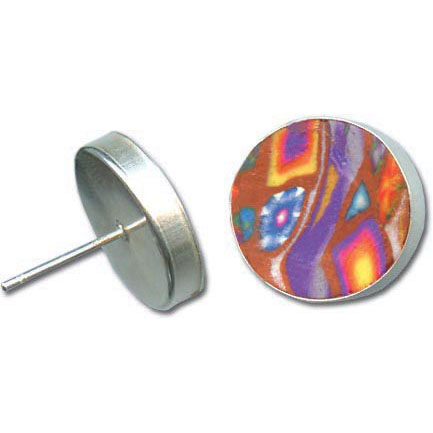 Suggested Supplies
Tools
#84-385-2 Blades
Craft Pasta Machine (for conditioning clay)
Our Bead Blog
Created by: Guest Designer Deb FlorosSuggested Supplies 1 #21-000-043-79 Black Stone Beads, 8x12mm

Created by: Guest Designer Deb FlorosSuggested Supplies 1 #28-684-196 Handmade 12mm Ceramic Peace S

Created by: Guest Designer Deb FlorosSuggested Supplies 1 #AMIET-7 TOHO Amiet Beading Thread, Teal