Sun Valley Earrings Tutorial
Created by: Mollie Valente
Designer Tips
Measure and mark the hanging hole placement near the upper corners of the half-round blanks. These should be set back from the edge about 1/16".
Use the hole punch pliers to punch holes at the marked positions.
The half-circle blanks can be used as is, or textured/stamped/embossed to add pattern (see texturing suggestions below).
Cut the length of wire into 2 equal pieces.
Use a ring mandrel to bend a size-14 curve in the middle of each wire; this should result in two "U"-shaped pieces.
Add four beads to each U-shaped piece.
Form hanging loops in the U-shaped wire. The loops should face perpendicular to the metal blank's face.
Attach the hanging loops to the punched holes in the blanks. Securely close the loops.
Position the beads so there are two beads on each side of the wire.
Twist open the ear wire loop and attach it to the top of U-shaped wire. Twist the ear-wire loop securely closed. Repeat.
New to Jewelry-Making?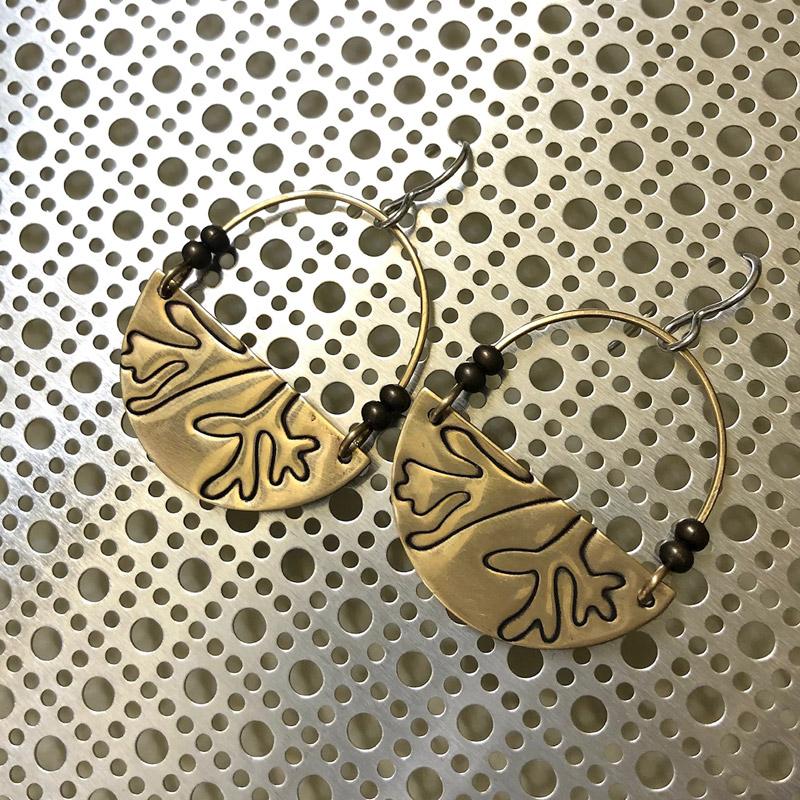 Suggested Supplies
Tools
#69-238 EURO TOOL Hole Punch, Round, 1.5mm hole
#69-151 Plastic Ring Mandrel, Ungrooved (size 14 or so)
#65-553-00 The Beadsmith Microfine Plier Set, Four Piece tool kit
Other SuppliesSuggested Texturing Tools (optional)Add pattern with DecoEmboss dies with your embossing machine:
#69-325-011 Vintaj DecoEmboss Die, Acorn Hollow - Limited Availability
#69-325-032 Sizzix DecoEmboss Dazzle Pattern Embossing Die - Limited Availability
#69-325-029 Vintaj DecoEmboss Organic Texture Embossing Die - Limited Availability
Add pattern with metal stamping tools and stamp sets:Add texture with a texturing hammer:Add a patina and polish:
#86-431-11-001 ImpressArt Stamp Enamel Marker - Black
#63-537 EURO TOOL Polishing Cloth, Brilliant
Our Bead Blog
Created by: Guest Designer Deb FlorosSuggested Supplies 1 #61-130-05-01 Greek Leather Cord, 1.5mm,

Created by: Guest Designer Deb FlorosSuggested Supplies 1 #20-111-223 TOHO Glass Seed Bead, Size 11

Created by: Guest Designer Deb FlorosSuggested Supplies 1 #21-000-043-79 Black Stone Beads, 8x12mm