Sunset Ombre Earrings Tutorial
This earring project uses Kato PolyClay™ to create a pretty ombre effect that's easy to add to ear wires.
Created by: Tiffany White
Designer Tips
Using a craft blade, cut each of 3 colors of polymer clay into small pieces. Keep each color of cut up pieces in separate piles.
Now, rearrange your pieces into 7 piles that include the following: all red, mostly red with some orange, mostly orange with some red, all orange, mostly orange with some yellow, mostly yellow with some orange, all yellow.
Blend the first pile with your hands, until you get a smooth consistent color. Warm hands are a great asset for this step!
A great way to hand blend colors is to roll the two colors between your hands until you form a "snake". Fold the snake in half and continue to roll the clay into another snake. Repeat this process until you have a smooth, blended color.
Repeat this blending process with each separate pile of cut up clay until you have 7 distinct colors of clay.
Roll each finished color into a 1 inch cylinder, then flatten it with a rolling pin or jumbo magic marker. Roll them about 1/4 inch thick.
After you've flattened all the colors, stack them like a rainbow. Now you've got an ombre cane.
Cut a thin slice of the cane and lay the bezel on top of the slice. Using your knife, trim the clay to the shape of the bezel.
Press your sliced polymer clay cane into one of the bezels, making sure it fills the entire bezel.
Using your craft blade, trim the excess clay that sticks up above the surface of the bezel. Only a thin slice of clay will remain in the bezel cup.
Repeat the last 3 steps with your second jewelry bezel.
Bake the polymer clay focals on a sheet pan for 10-15 minutes at 275 degrees F.
Your baked focals are now finished! They will naturally have a matte finish. Optional: If you want to make them shiny, add a thin coat of spray sealer.
Attach a pendant to each earring hook with a 10mm jump ring and you're done!
To make a matching necklace, use the same polymer clay cane you already made for this necklace! See our Sunset Ombre Necklace Tutorial for more information.
Free Technique Sheets & How-Tos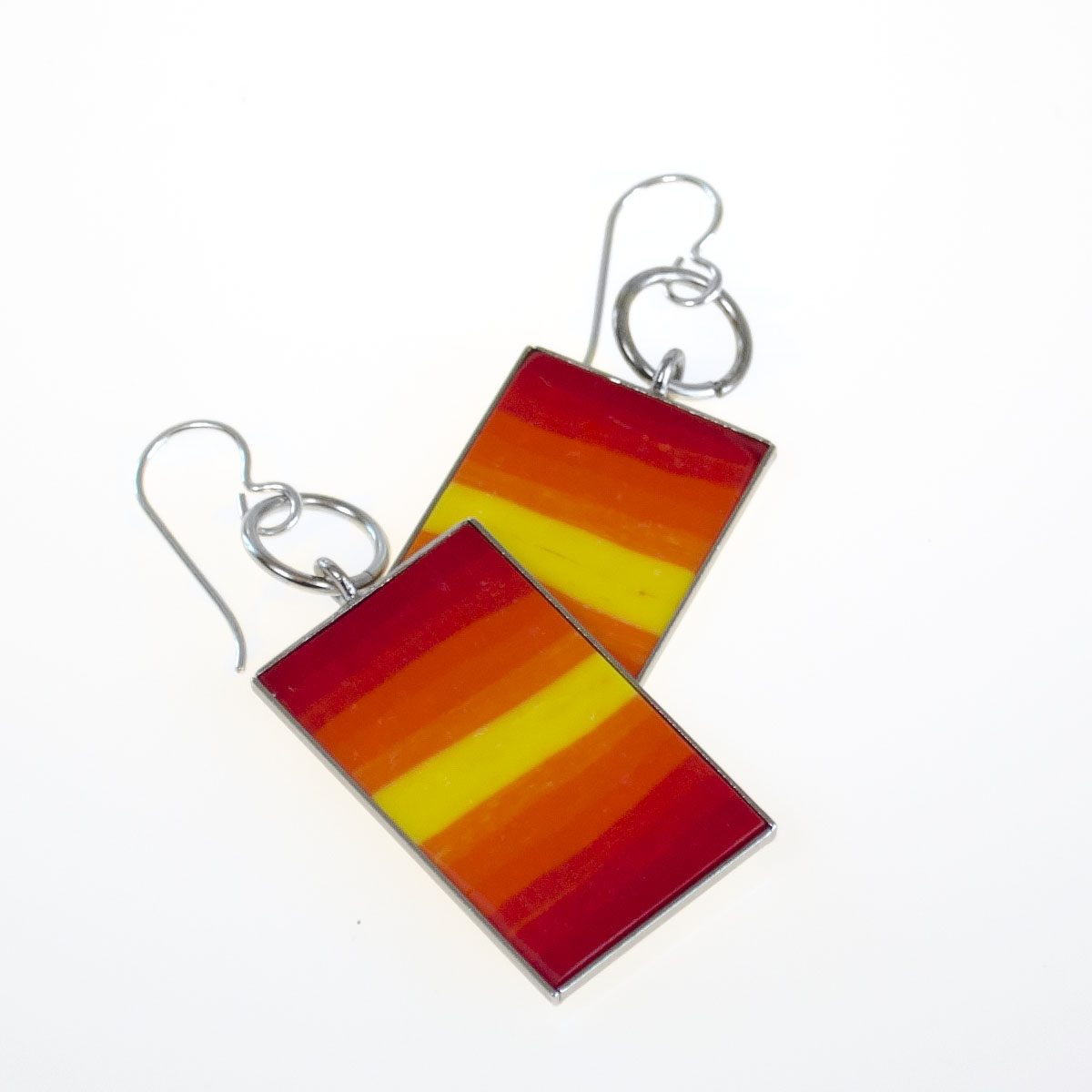 Suggested Supplies
Tools
#84-385-2 Craft Blades by Kemper (Pack of 2)
#69-271-03 EURO TOOL Glitter Chain-Nose Pliers
Baking pan and oven.
Our Bead Blog
Hello, fellow crafters and DIY jewelry enthusiasts! Today, we delve into an essential aspect of neck

This olivine variety is composed of magnesium iron silicate. Peridot (pronounced PEAR-ih-doh or PEAR

Save time with pre-drilled blanks and create a pair of fun earrings with size 11/0 TOHO or Delica se