Sweet and Sour Engraved Bracelet Tutorial
Edged cuff bracelets also work great for leather, fabric, beaded designs and more!


Created by: Rita Hutchinson
Designer Tips
Stamp or sketch design on aluminum sheet if desired.
Follow marked (or freehand) design with engraver.
Remove excess ink if needed.
Cut sheet to the width of the bracelet channel.
File edges as needed.
Form aluminum to general cuff shape with EZ bender tool.

Using flat nose pliers, gently open the overlapped end portion of the bracelet.
Test the fit of the aluminum to the bracelet base, slipping ends into the overlapped end sections. If needed, trim extra from ends of aluminum piece.
Apply adhesive to half of the bracelet base and adhere first side of the aluminum. Allow to dry.
Carefully apply remainder of the aluminum strip to the rest of the bracelet base with superglue. If needed, binder clips can help hold the parts in the proper shape while curing.
Squeeze overlapping end section back into place to complete bracelet.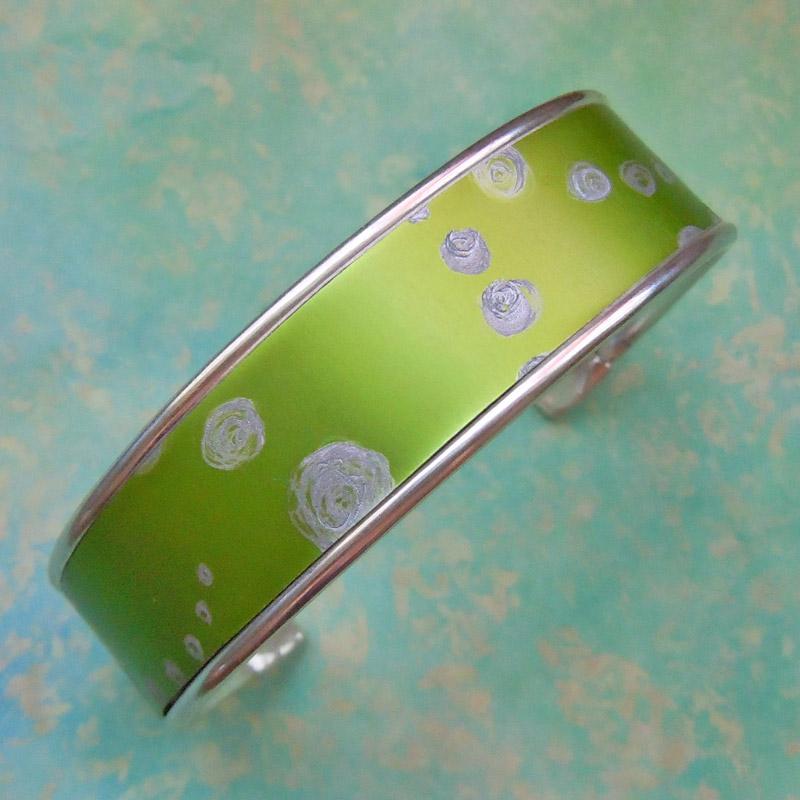 Suggested Supplies
1 each #51-756-075-3 Cuff Bracelet with Edges, 3/4" - Silver Plated
1 each #64-910-24-18 Anodized Aluminum Sheet, 24 Gauge, 6x6" - Sour Apple
1 each #60-244 Adhesive, Loctite Ultra Gel Control SuperGlue

Tools
Other Supplies (Optional)
Rubber Stamp
Stamp Pad
Ink Remover
Sharpie or other Marker
See all sizes and colors of Edged Cuff Bracelets and Aluminum Sheet.
Our Bead Blog
Created by: Guest Designer Deb FlorosSuggested Supplies 1 #61-130-05-01 Greek Leather Cord, 1.5mm,

Created by: Guest Designer Deb FlorosSuggested Supplies 1 #20-111-223 TOHO Glass Seed Bead, Size 11

Created by: Guest Designer Deb FlorosSuggested Supplies 1 #21-000-043-79 Black Stone Beads, 8x12mm