The Imp Bracelet Tutorial
Created by: Rita Hutchinson
Designer Tips
Plan out design, and stamp words and symbols. ("I Drink and I Know Things" is a quote from Game of Thrones, and the colors used here are the colors of house Lannister.)
New to metal stamping? See Metal Stamping 101
Texture the blank with rounded end of chasing hammer.
Apply stamp enamel per package instructions.
Punch holes in bracelet with Euro Power Punch (note – The rivet length allows them to go through thicker materials; they will spin around in the cuff. To prevent spinning, add washers -- see link at bottom.)
Form cuff shape with E-Z bender tool.
Attach crystal rivets (note – for best results, the tool should be perpendicular to the rivet, which won't be possible since the cuff is bent. Align the tool with the rivet cap on one side of the cuff, and then on the other. Alternately, place the rivets further from the end of the bracelet, to allow attachment prior to bending.)
Polish bracelet first with steel wool, and then with Ultra polishing pads for Ultra high-shine.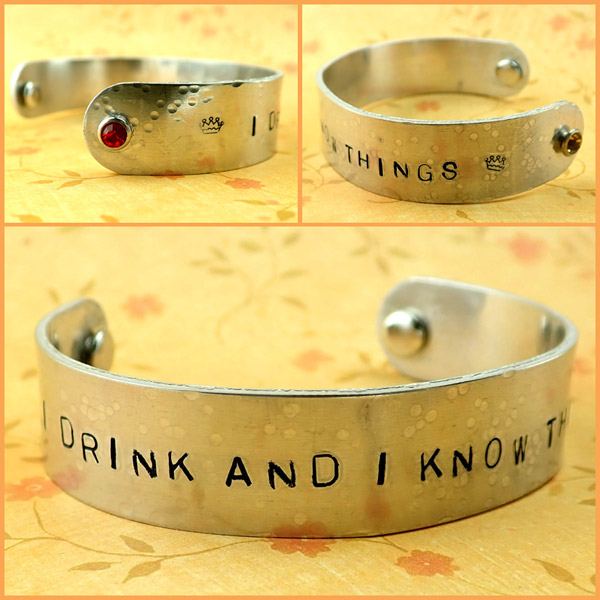 Suggested Supplies
Optional Supplies
Tools
Other Supplies
Alcohol Wipes / Baby Wipes
0000 Steel Wool
Our Bead Blog
Created by: Guest Designer Deb FlorosSuggested Supplies 1 #61-130-05-01 Greek Leather Cord, 1.5mm,

Created by: Guest Designer Deb FlorosSuggested Supplies 1 #20-111-223 TOHO Glass Seed Bead, Size 11

Created by: Guest Designer Deb FlorosSuggested Supplies 1 #21-000-043-79 Black Stone Beads, 8x12mm