TierraCast Bee Bracelet Tutorial
Created by: TierraCast


Designer Tips
Cut 20" of 1.5mm cord in your choice of color and cut again into 2 pieces, one 12" and one 8".
Feed one open end of each cord through each end of honeycomb link (as shown in picture), secure with knot by wrapping working end around cord and forming overhand knot, aiming tail away from loop. Secure with glue after final tightening.
For left side of bracelet (button end), feed free 8" long cord end through shank of the button and tie knot.
For right side of bracelet (loop end), tie 12" long cord end in knot for loop closure, ensuring that loop is large enough to pass over diameter of button. Secure with glue after tightening.
Twist open jump ring to attach bee charm to the bottom of honeycomb link and twist closed. For most secure way way to open and close jump rings, see Jewelry Basics 101 (PDF).
Optional: Thread Hibiscus Flower bead or other 7mm size bead of your choice onto head pin and curve end into loop to attach to adjacent hole of honeycomb link.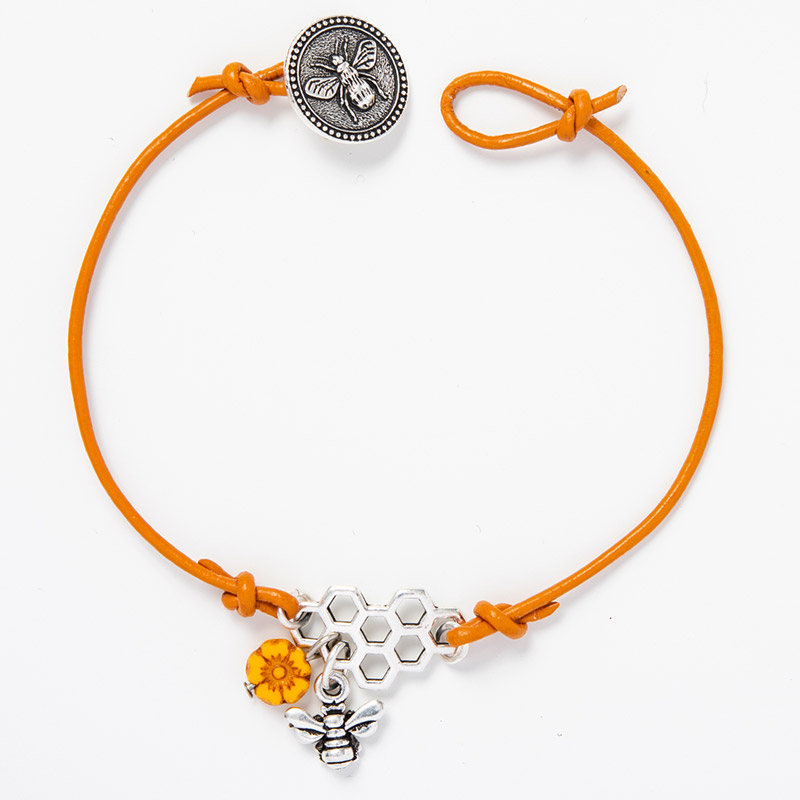 Suggested Supplies
Tools
Additional Supplies
Optional: Czech glass flower beads (bead shown is a 7mm Hibiscus bead), lampwork flower bead, etc.
Our Bead Blog
Created by: Guest Designer Deb FlorosSuggested Supplies 1 #61-130-05-01 Greek Leather Cord, 1.5mm,

Created by: Guest Designer Deb FlorosSuggested Supplies 1 #20-111-223 TOHO Glass Seed Bead, Size 11

Created by: Guest Designer Deb FlorosSuggested Supplies 1 #21-000-043-79 Black Stone Beads, 8x12mm