TierraCast Monstera Bracelet Tutorial
Created by: TierraCast


Designer Tips
Pre-stretch cord. Attach center of cord to button shank with Larks-Head knot, then tie overhand knot.
* String nugget spacer onto both cord ends then tie second knot using an awl and pearl knotting technique. Thread one end of cord through one 8mm faceted glass, gemstone or crystal bead, then tie both cords in overhand knot. *
Keep tension tight. Repeat * to * to desired length, finishing with nugget bead.
String 22-24 size 8 seed beads or 3mm disk beads to form button loop, then secure with overhand knot at nugget bead. Add a drop of adhesive to knot, and trim excess cord.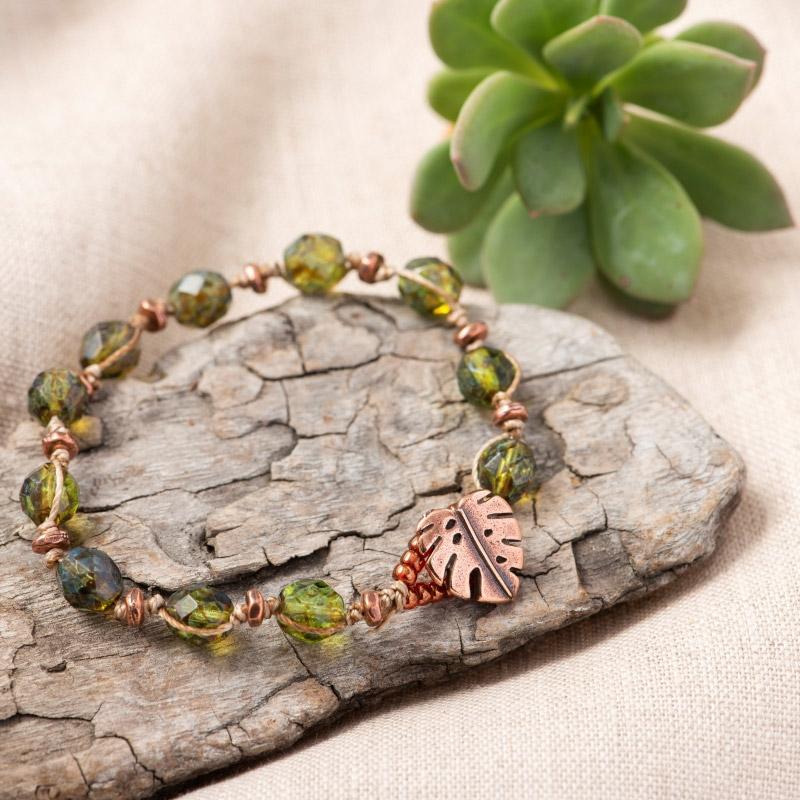 See all supplies from the TierraCast Renewal collection. To make this bracelet with copper (as pictured), get the Monstera Bracelet kit (#45-104-44). Or, try these parts to create it with gold TierraCast components & polychrome sage Czech glass beads:
Suggested Supplies
1 each #59-100-49-AG TierraCast Monstera Button, Antique Gold
2 10-packs (use 12-15 beads) #49-955-05-GP TierraCast 5mm Nugget Heishi Beads - Gold Plated
1 100-pack (use 24 beads) #49-957-03-4 TierraCast Gold Plated Heishi Beads, 3mm Heishi
~ or ~ size 8 seed beads in color of your choice
1 strand (use 10-14 beads) #23-448-1970 Czech Glass Bead, Firepolish, Round, 8mm - Polychrome Sage & Citrus
1 pack (use about 40") #61-710-005 The BeadSmith Super-Lon, Bead Cord Color Mix - Neutrals Mix
Optional: Add a drop of glue to the final knot.
Tools
#69-043 Scissors, Extra Large Loop
Optional: #65-801 Kemper Mfg. Inc. Awl, Metal (for precisely placing knots)
Optional: #65-955 Beadalon Knotter
Our Bead Blog
Created by: Guest Designer Deb FlorosSuggested Supplies 1 #61-130-05-01 Greek Leather Cord, 1.5mm,

Created by: Guest Designer Deb FlorosSuggested Supplies 1 #20-111-223 TOHO Glass Seed Bead, Size 11

Created by: Guest Designer Deb FlorosSuggested Supplies 1 #21-000-043-79 Black Stone Beads, 8x12mm