Tivoli Centerline Earrings Tutorial
Save time with pre-drilled blanks and create a pair of fun earrings with size 11/0 TOHO or Delica seed beads in Scandinavian colors. "Tivoli" means "funfair" in Swedish.
Created by: Summer Melaas
Designer Tips
Stretch and wax 2-1/2 yards (2.25 meters) of thread.
Follow pattern, and using an edging stitch, put your first row of beads on one of the half moons. One column (fringe) at a time, add beads. At the bottom of the fringe, skip over the last bead added, then run your needle and thread back up through all the other beads in that column. Move needle/thread over to next fringe. Pull taught but not too tight. You want your fringe supple and free moving. Continue following pattern.
Repeat for other earring with other design.
Wire wrap a pearl to the top hole on the half moon. Make loop at top and add the ear wire.
For more details on wire wrapping loops, see Jewelry Basics 101 (PDF).
For more tips on beading with Centerline findings, see free downloadable projects below.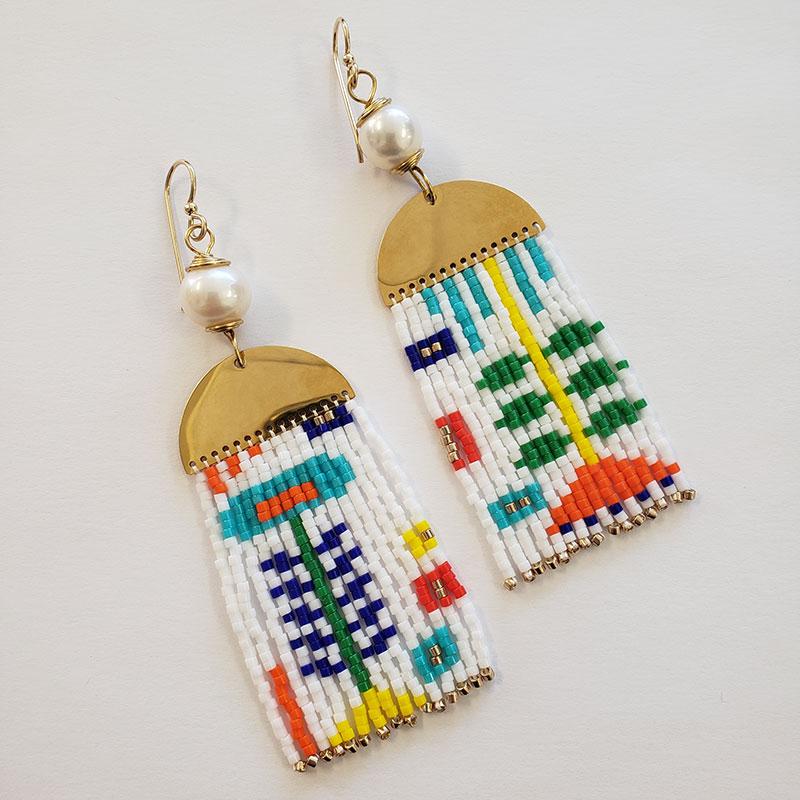 Suggested Supplies
You'll have plenty of left-over beads of each color after making this project.
1 2-pack #30-072-021-4 Centerline Half Moon Bracelet Link, 0.25x1" - Gold Plated
1 tube #20-928-0721 Miyuki Delica 11/0 Beads - Yellow
1 tube #20-928-0726 Miyuki Delica 11/0 Beads - Cobalt Opaque
1 tube #20-928-0200 Miyuki Delica 11/0 Beads - White
1 tube #20-928-0727 Miyuki Delica 11/0 Beads - Red
1 tube #20-928-1834 Miyuki Delica 11/0 Beads - Galvanized Champagne Duracoat
1 tube #20-928-0722 Miyuki Delica 11/0 Beads - Orange
1 tube #20-928-0655 Miyuki Delica 11/0 Beads - Turquoise Green Opaque Dyed
1 pair #34-669-04 TierraCast 14kt Gold-Filled Earring Hook with 2mm Bead
1 pack #46-402-27 Artistic Wire Tarnish Resistant Brass Jewelry Wire, 22ga, 45ft
1 bobbin #61-002 One-G TOHO Nylon Beading Thread, 50 yards, White
1 strand (use 2 beads) #20-638-09-011 or #20-639-011 8-10mm White Freshwater Pearl Beads
1 each #69-022 Beeswax
Tools
Other Supplies
Our Bead Blog
Created by: Guest Designer Deb FlorosSuggested Supplies 1 #61-130-05-01 Greek Leather Cord, 1.5mm,

Created by: Guest Designer Deb FlorosSuggested Supplies 1 #20-111-223 TOHO Glass Seed Bead, Size 11

Created by: Guest Designer Deb FlorosSuggested Supplies 1 #21-000-043-79 Black Stone Beads, 8x12mm