Ultra Blue Mehndi Earrings Tutorial
Extra-secure leverback ear wires keep these earrings safely in the ear -- no lost earrings! Ultra AB Blue may be a bit pricey, but it is stunning -- These simple earrings receive tons of compliments.


Created by: Polly Nobbs-LaRue
Designer Tips
Place a crystal stone in a setting, and use nylon-jaw pliers to press each prong part-way down on the stone. Make sure stone is centered, then go back around and press each prong down more securely. If necessary, burnish each prong down smooth with a burnishing tool (the back end of a standard Sharpie works great).
Use the loop at the bottom of the ear wire, to add charm. For best way to open and close loops, see Jump Ring Hint in Jewelry Basics 101 (PDF)
Repeat for other earring.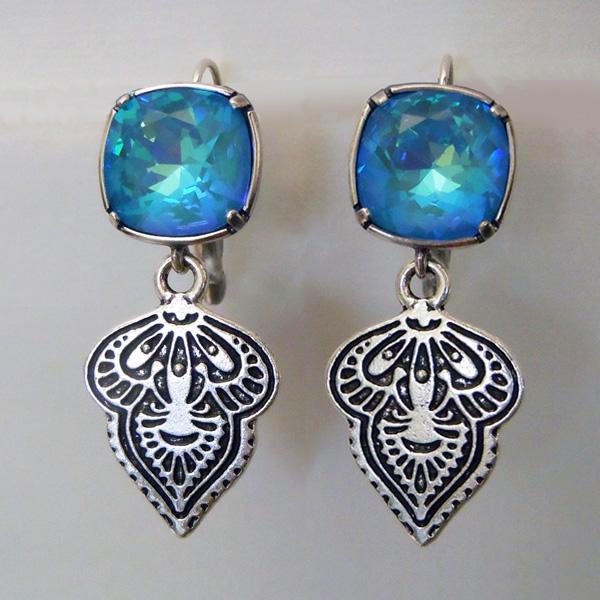 Suggested Supplies
1 pair #34-340-20-12-5 Leverback Earwire with Loop and 12mm Cushion Stone Setting - Antiqued Silver Plate
2 each #04-470-12-506 Swarovski 4470 Cushion Square Stone, 12mm - Ultra AB Blue
2 each #49-943-05-AS TierraCast Mehndi Charm - Antiqued Silver Plated
Tools
#68-007-01 Jewelry Technique Sheet, Jewelry Basics 101
Nylon-Jaw Pliers
Burnishing Tool
Round-nose pliers (or your favorite pliers for opening and closing jump rings).
Our Bead Blog
Created by: Guest Designer Deb FlorosSuggested Supplies 1 #61-130-05-01 Greek Leather Cord, 1.5mm,

Created by: Guest Designer Deb FlorosSuggested Supplies 1 #20-111-223 TOHO Glass Seed Bead, Size 11

Created by: Guest Designer Deb FlorosSuggested Supplies 1 #21-000-043-79 Black Stone Beads, 8x12mm