Ultra Simple Blue Rivoli Earrings Tutorial
These sparkling earrings use only 3 components, and 2 common pairs of jewelry pliers (available individually or in a kit). Ultra Blue AB is a vivid blue coating added to a Swarovski rivoli crystal. 12mm rivolis are available in 80 colors!

Created by: Janet Boyington
Designer Tips
Center rivoli crystal in bezel.
Use your fingers or flat-nose nylon-jaw pliers to gently squeeze each prong most of the way down onto crystal, being careful not to scratch the coating on the back of the crystal.
Make sure crystal is centered, and use nylon-jaw pliers to finish tightening the prongs.
Add ear wire to loop on bezel. (Open the loop on the ear wire the same way you would open a jump ring. - See Jump Ring Tip in Jewelry Basics 101 (PDF).)
Repeat for other earring.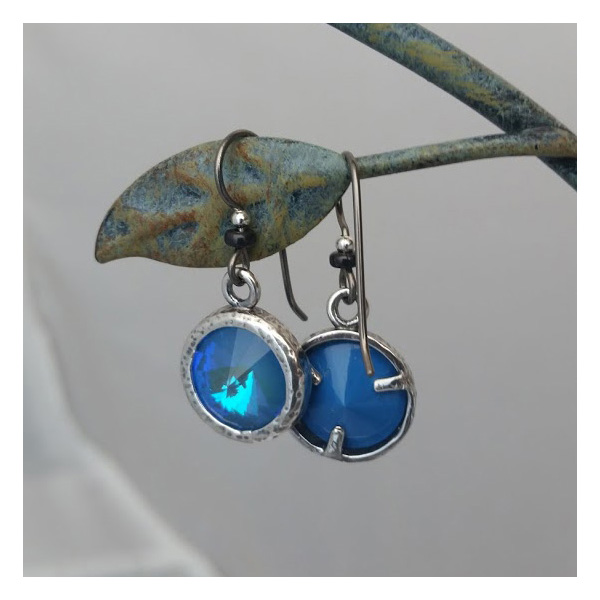 Suggested Supplies
2 each #41-860-12-01-5 Rivoli Setting, 1 Loop, 12mm, Open Back - Antiqued Silver Plated
2 each #01-122-12-506 Swarovski 1122 Rivoli Stone, 12mm, Ultra AB Blue
1 pair #34-042-0-GM TierraCast Niobium Earring Hooks w/ Round and Heishi Beads, Raw/ Sterling/ Black
Tools
Nylon-Jaw Pliers
Round-Nose or Chain-Nose Pliers
Our Bead Blog
Created by: Guest Designer Deb FlorosSuggested Supplies 1 #61-130-05-01 Greek Leather Cord, 1.5mm,

Created by: Guest Designer Deb FlorosSuggested Supplies 1 #20-111-223 TOHO Glass Seed Bead, Size 11

Created by: Guest Designer Deb FlorosSuggested Supplies 1 #21-000-043-79 Black Stone Beads, 8x12mm