Unfurled Copper and Oval Gemstone Necklace Tutorial
Created by: Cindy Morris


Designer Tips
Since the gemstones are fairly heavy, use two crimp beads for extra security. Flatten crimps with flat-nose pliers.
Use two jump rings for the "S" hook to connect to both for style and extra security.
Vary chain length and stringing pattern as desired.
Placing the clasp to one side rather than the back makes it easier to close for some people.
Free Technique Sheets & How-Tos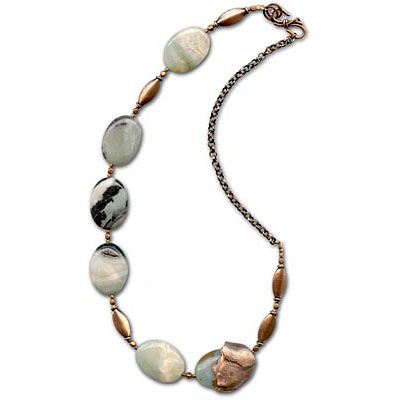 Suggested Supplies
1 strand [use 6] #21-000-194-83 Bead, Gemstone, 18x25mm Puffed Oval
1 gross [use 12] #26-473-7 Bead, 3mm Cornerless Cube
1 strand [use 5] #26-812-005 Bead, Copper, Marquise
1 strand [use 24] #26-840-10-AC Bead, Brass, Barrel Heishi, 3mm
1 oz [use 2] #37-167-7 Jump Ring, Round, 8mm
1 ea #39-890-02 Copper Clasp, "S" Hook
1 spool [use 5.5"] #40-099-15-7 Chain, Footage, Rollo, 3.9mm
1 0.1 oz [use 4] #41-256-51-8 Crimp Bead, Smooth, "Size 1"
1 spool [use 13"] #61-773-49-75 Soft Flex® Wire, 0.019", 49 strand, 30'
Tools
Additional Supplies
Our Bead Blog
Created by: Guest Designer Deb FlorosSuggested Supplies 1 #21-000-043-79 Black Stone Beads, 8x12mm

Created by: Guest Designer Deb FlorosSuggested Supplies 1 #28-684-196 Handmade 12mm Ceramic Peace S

Created by: Guest Designer Deb FlorosSuggested Supplies 1 #AMIET-7 TOHO Amiet Beading Thread, Teal