Water Droplet Earrings Tutorial
Created by: Liz Graf
Designer Tips
Cut 8 links of your selected chain.
I deconstructed and used part of a gunmetal chain tassel, or you can use 8 links from some scrap antiqued brass cable chain.
Hook Briolette to one jump ring, attach to one end of the chain, and close securely. For best way to open and close loops, see Jump Ring Hint in Jewelry Basics 101 (PDF).
Open the loop of an ear wire.
Attach a jump ring to the other end of the chain, close jump ring securely, and add to the open loop on the ear wire.
Next place the brass pendant onto the loop, in front of the chain, and close the ear wire loop.
Repeat process for second earring.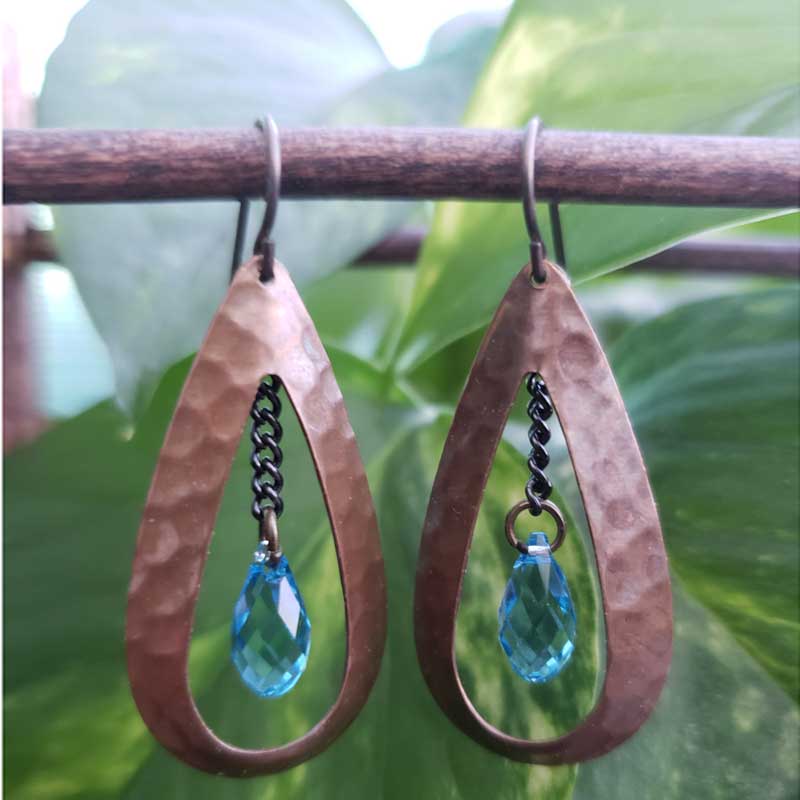 Suggested Supplies
Tools
#69-271-03 EURO TOOL Glitter, Chain-Nose Jewelry Pliers
#69-271-06 EURO TOOL Glitter, Bent Chain-Nose Jewelry Pliers
#69-271-05 EURO TOOL Glitter, Semi-Flush Side Cutter
Our Bead Blog
Created by: Guest Designer Deb FlorosSuggested Supplies 1 #61-130-05-01 Greek Leather Cord, 1.5mm,

Created by: Guest Designer Deb FlorosSuggested Supplies 1 #20-111-223 TOHO Glass Seed Bead, Size 11

Created by: Guest Designer Deb FlorosSuggested Supplies 1 #21-000-043-79 Black Stone Beads, 8x12mm