When the Day Met the Night
Created by: Tricia Van Leuven

Shimming moonstone, sparkling Metallic Sunshine crystal, and Mystic Black pearls make a perfect set of jewelry for the next solar Eclipse.
Try subbing malachite, azurite or turquoise for the Earth (in place of the sun color), when there is a lunar eclipse!

Designer Tips
Center the stone in the ring setting and gently squeeze in prongs with nylon jaw flat-nose pliers, forking from apposite sides to keep the stone centered.
Once the prongs are bent in, use the burnishing tool to smooth them more firmly into place.
The ring is adjustable one time only. See Rings & Things Rivoli ring blog for more setting hints.
Niobium is an excellent metal for most people with metal allergies.
Use a jump ring to connect the rivoli pendant to Niobium ear wire. For best method for opening and closing closing jump rings, see Jump Ring Hint in Jewelry Basics 101 (PDF)
For bracelet and necklace, thread beads in this pattern:
sunshine crystal, moonstone, black pearl, with a silver rondelle between each bead. Continue pattern until desired length.
Finish necklace and bracelet with crimp bead and wire guardian.
(See step-by-step crimping instructions in Jewelry Basics PDF.)
For extra strength, use two jump rings, side by side, to attach magnet clasps to wire guardians.
Design Options:
Using 36 each of the 6mm moonstone, 6mm Metallic Sunshine crystal beads, and 6mm Mystic Black pearl beads, and 106 spacer beads, makes an 8" bracelet and 30" necklace. Use more or fewer beads as desired for a shorter or longer finished pieces.
If you sub 8mm rounds in place of the 6mm round beads, use approximately 24 of each round bead instead of 36. (Since this will also use fewer spacers, you may need to "pad" the end of the necklace with extra spacer beads.
Moonstone beads are not always available -- possible subs are Opalite, Crystal Silver Night, or white Crystal Pearls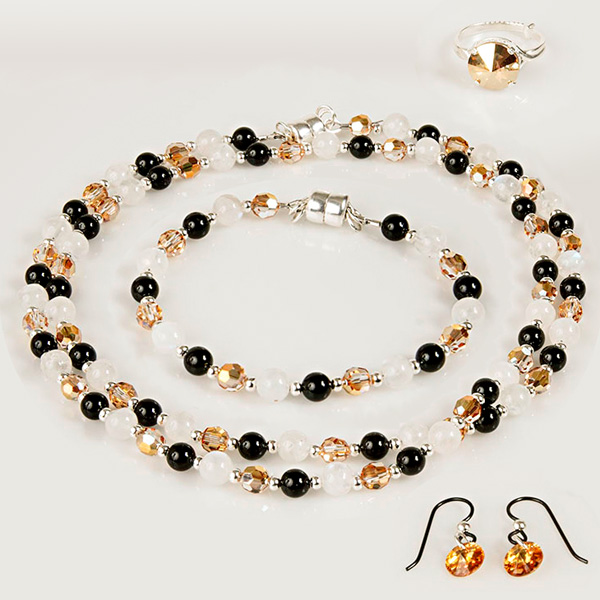 Suggested Supplies
1 each #51-000-61-12-3 Ring Blank, Locking Adjustable Band with 12mm Post Bezel - Silver Plated
1 each #01-122-12-460 Swarovski 1122 Rivoli Stone, 12mm - Metallic Sunshine
2 each #06-428-08-460 Swarovski 6428 Rivoli Pendant, 8mm - Metallic Sunshine
1 pair #34-003-12-SS TierraCast Black Niobium Earring Hook Findings w/ 3mm Bead
1 ounce [use 10 pieces] #37-136-3 Silver Plated Jump Ring, Round, 5mm
1 strand [use 36 beads] #21-886-045-09 Rainbow Moonstone Gemstone Beads, Round, 6-7mm - Limited Availability
1 strand [use 36 beads] #05-810-06-268 Swarovski 5810 Round Pearl Beads, 6mm - Mystic Black
3 dozen #05-000-06-460 Swarovski 5000 Faceted Round Beads, 6mm - Metallic Sunshine
2100 [use 106 beads] 26-155-32-3 Silver Plated Metal Beads, Rondelle, 3.2mm
1 0.5 Gross [use 4 pieces] #41-051-3 Beadalon Wire Guardians, Silver Plated, Size 2
1 spool #61-413-49-87 Beadalon Beading Wire, 49 Strand, 0.013", 30' Spool - Bright Steel
1 100 [use 4] #41-256-10-3 TierraCast Silver Plated Crimp Tube, "Size 2"
2 each #39-308-3 MAG-LOK Silver Plated Magnetic Jewelry Clasp, Superior Quality, Button, 8mm
Tools
Our Bead Blog
Created by: Guest Designer Deb FlorosSuggested Supplies 1 #61-130-05-01 Greek Leather Cord, 1.5mm,

Created by: Guest Designer Deb FlorosSuggested Supplies 1 #20-111-223 TOHO Glass Seed Bead, Size 11

Created by: Guest Designer Deb FlorosSuggested Supplies 1 #21-000-043-79 Black Stone Beads, 8x12mm