Zen Yin Belt Buckle Tutorial
Created by: Jan Roberts


Designer Tips
The economically-priced chatons used in this design are real leaded-glass crystals!
Pre-plan your design so the clay doesn't dry out before you've finished placing your embellishments. This is especially important on a large object like a belt buckle.
Follow the manufacturer's instructions to apply the clay to the buckle blank.
The Jewel Setter is an excellent tool for picking up and placing the crystals.
To save time, you can leave the metal beads on the string, rather than placing them individually in the clay.
Trim excess string once you've placed the beads.
For a step-by-step tutorial with images, see the Embellish Jewelry Blanks with Crystal Chatons blog post.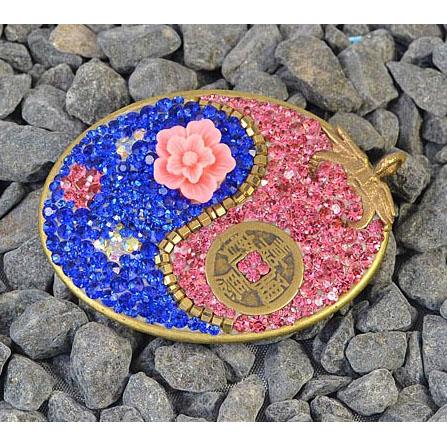 Suggested Supplies
Tools
Additional Supplies
Resin flower from designer's stash
Our Bead Blog
Created by: Guest Designer Deb FlorosSuggested Supplies 1 #61-130-05-01 Greek Leather Cord, 1.5mm,

Created by: Guest Designer Deb FlorosSuggested Supplies 1 #20-111-223 TOHO Glass Seed Bead, Size 11

Created by: Guest Designer Deb FlorosSuggested Supplies 1 #21-000-043-79 Black Stone Beads, 8x12mm