Description
Tips for Working With Sterling Silver Wire & Sheet
To keep track of different materials, mark each material with a different color of permanent marker. (Sharpies work great.)
Any writing on wire or sheet is easily removed with acetone or fingernail polish remover.
To prevent pliers from marring delicate, expensive materials: wrap a bit of tape around plier tips so they don't scrape or mar your wire. Nylon jaw pliers are also popular, and Tool Magic anti-scratch coating is a staff favorite!
New to working with wire? See Wire Jewelry 101 for info about gauges, hardness, and what size of wire is best for which jewelry projects.
---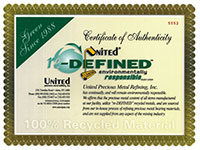 Green Silver
All our sterling silver items are nickel free. And this sterling silver item is even better! It's made from environmentally responsible green silver.
Details
| | |
| --- | --- |
| Sold by: | troy ounce |
| Theme: | Half Hard |
| Additional Info: | 18.9ft/ozt |
| Thickness: | 20 ga (0.81mm) |
| Country of Origin: | United States |
Product Reviews
I love the sturdiness of this wire, but I wish it wasn't wound so tightly on a small spool. The tight coiling on the plastic spool makes it more difficult to work with when you remove it from the roll. I kept getting poked in the eye and cut my fingers because it would spin around so much. It took some extra time to straighten out enough to work with. A looser coil would make all the difference in the world.

This is my first time ordering SS wire. Half hard is a bit harder than I expected ...or maybe my fingers are a bit more tender!