12th Man Earrings Tutorial
Create a pair of sparkling earrings for your favorite football fan! These take just 5 minutes, and a few basic jewelry tools. No glue required, either!

This pair of earrings features a "12" charm, but you could also use a team-colored Preciosa rivoli at the bottom instead.

Designer Tips
Place a crystal in a setting. Use chain-nose pliers to gently press each prong into place. (more info)
Make 6 beaded head pins, with one sapphire bicone bead each. For instructions on making eye pin loops, see Jewelry Basics 101 (PDF).
Twist the loop on the ear wire to open it enough to add the setting and 3 sapphire drops. Twist to close securely.
Add 12 charm to bottom.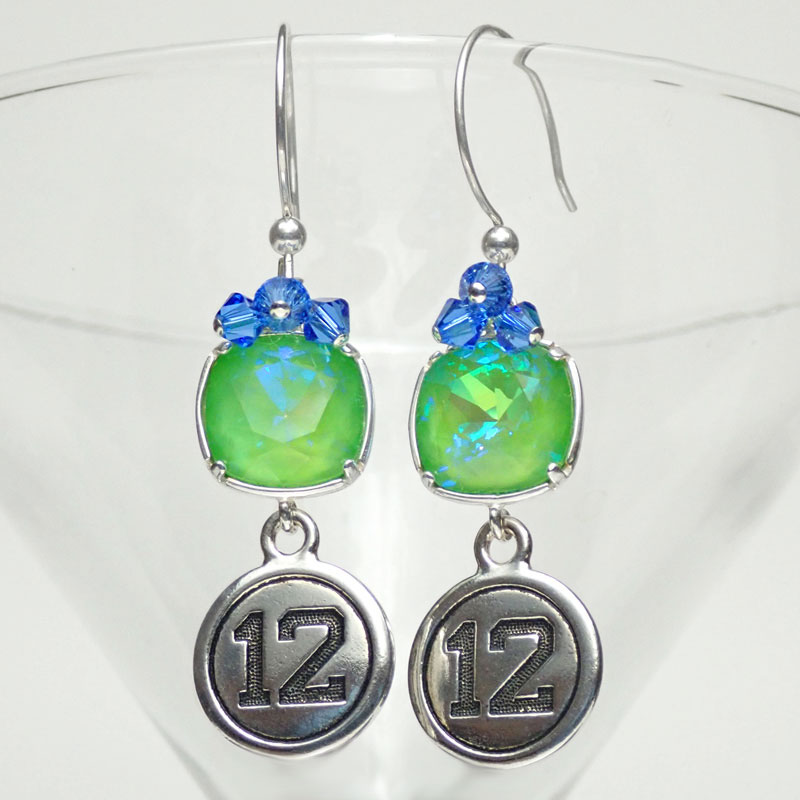 Suggested Supplies
Tools
Basic jewelry-making tools (Chain-nose pliers, wire cutters, and round-nose pliers)
Optional: nylon-jaw pliers -- for extra safety when setting the crystal stone.
Our Bead Blog
Created by: Guest Designer Deb FlorosSuggested Supplies 1 #61-130-05-01 Greek Leather Cord, 1.5mm,

Created by: Guest Designer Deb FlorosSuggested Supplies 1 #20-111-223 TOHO Glass Seed Bead, Size 11

Created by: Guest Designer Deb FlorosSuggested Supplies 1 #21-000-043-79 Black Stone Beads, 8x12mm