Basketball Finals - DIY Team Colors Bracelet
C'est La Vie Finals Bracelet
Whether you defy history, or regularly make history, we've got your colors -- over 80 colors to choose from, and a nice variety of frame setting options.
Created by: Polly Nobbs-LaRue
Designer Tips
Glue 34ss flatback Swarovski crystals into frame charms. Allow to set. See tips for most secure gluing bond.
Polish raw brass bracelet with ultrafine sanding sponge. (Or tumble with steel shot and ShineBrite for a couple hours.)
Wipe thoroughly with a soft dry cloth to remove any dust and oils.
Apply Adirondack ink color of your choice to words; allow to dry for about 60 seconds. Wipe with a clean dry cloth. When fully dry, polish off excess ink with ultrafine and microfine sanding sponges.
Use 16-gauge 10mm jump rings to add the basketball charm and team color charms.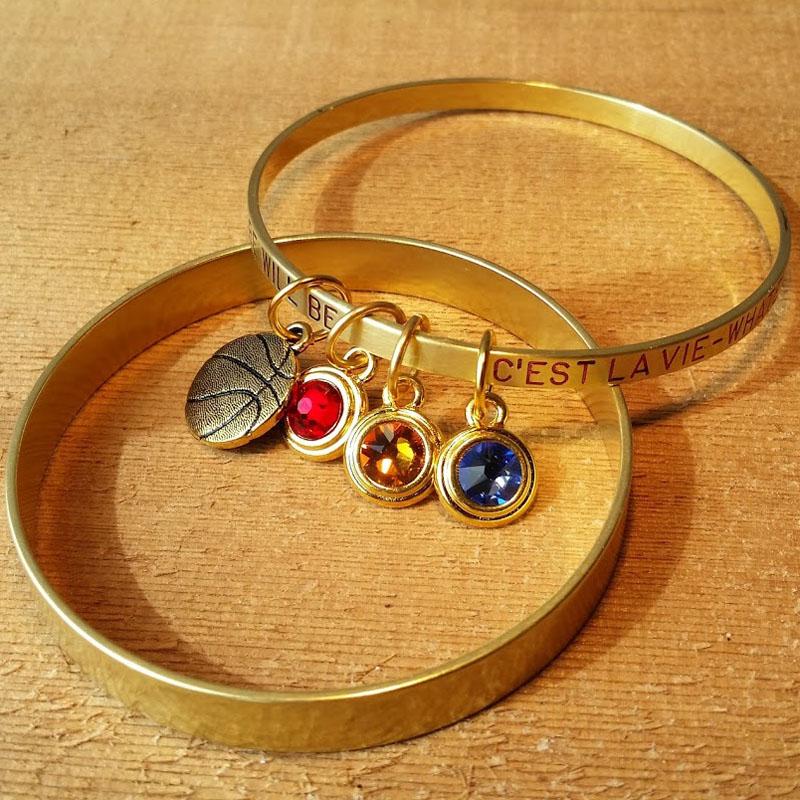 Suggested Supplies
1 each #44-940-12-AG TierraCast Antiqued Gold Plated Britannia Pewter Basketball Charm
1 6-pack (use 1 piece) #02-088-34-22 Swarovski 34ss Topaz 2088 Xirius Rose Flat-Back Crystals, No Hotfix
1 6-pack (use 1 piece) #02-088-34-18 Swarovski 34ss Sapphire 2088 Xirius Rose Flat-Back Crystals, No Hotfix
1 6-pack (use 1 piece) #02-088-34-20 Swarovski 34ss Siam 2088 Xirius Rose Flat-Back Crystals, No Hotfix
or other colors of your choice (see link above)
3 each #41-864-12-4 TierraCast Charm, Stepped Round Bezel Setting w/ In-Line Loop - Gold Plated
(or #41-864-11-34-4 TierraCast Charm, Beaded Round Bezel Setting)
1 each #51-720-012-316-0-S Brass 3/16" C'est La Vie Bangle Bracelet, 2-5/8" ID
1 each #86-110-005 Adirondack Alcohol Ink - Red Pepper
1 10-pack #69-257 3M Sanding Sponges, Set
1 ounce [use 4 pieces] #37-178-2 Yellow Plated Jump Ring, Round, 10mm
Adhesive
We normally recommend a 2-part epoxy when gluing crystals. However, due to the low profile of the 34ss Xilion flatback crystal, and the protective frame, Loctite is also a good choice. We recommend either of the glues below, as good choices for foilback crystals.
#60-244 Adhesive, Loctite Ultra Gel Control SuperGlue
#60-215-100 Swarovski 2-Part Epoxy Adhesive, 9030 CG500
Tools
#69-081 Jewelry Pliers, 5", Ergonomic, Bent Chain-Nose
#69-083 Jewelry Pliers, 5", Ergonomic, Chain Nose
Our Bead Blog
Created by: Guest Designer Deb FlorosSuggested Supplies 1 #21-000-043-79 Black Stone Beads, 8x12mm

Created by: Guest Designer Deb FlorosSuggested Supplies 1 #28-684-196 Handmade 12mm Ceramic Peace S

Created by: Guest Designer Deb FlorosSuggested Supplies 1 #AMIET-7 TOHO Amiet Beading Thread, Teal