BeBop Blues Earrings Tutorial
This project uses Swarovski crystal pearls.
Created by: Cindy Morris
Designer Tips
Since you only need to make simple loops and open/close jump rings, these earrings are a perfect project to make on the run with a mini tool kit!
Add a 10mm round lapis, sodalite, or blue crystal pearl bead to an eye pin, then 3 metal spacer beads. Make a simple loop. Use a small jump ring to attach this drop to the bottom loop of an ear wire.
Use a larger jump ring to attach the bone leaf charm to the bottom.
If your eye pin loops don't match each other (and the charm doesn't face forward), you can use 2 pairs of pliers (one pair on each loop) to carefully grasp each eye pin loop (chain-nose are best, but round-nose are ok too), and gently twist the loops so they face the same direction.
Free Technique Sheets & How-Tos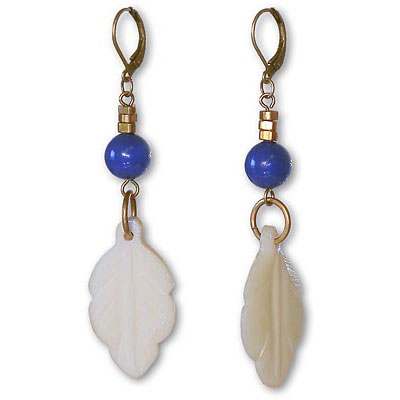 Suggested Supplies
Tools
#69-036 Tool, Beadsmith® Miniature Set, Eight Piece
Our Bead Blog
Created by: Guest Designer Deb FlorosSuggested Supplies 1 #61-130-05-01 Greek Leather Cord, 1.5mm,

Created by: Guest Designer Deb FlorosSuggested Supplies 1 #20-111-223 TOHO Glass Seed Bead, Size 11

Created by: Guest Designer Deb FlorosSuggested Supplies 1 #21-000-043-79 Black Stone Beads, 8x12mm