Craters of the Moon Earrings Tutorial
Learn simple but effective techniques to hammer-texture and dome metal disks to create beautiful handmade earrings.


Created by: Mollie Valente
Hammer and Dome the Blanks
Place a Vintaj blank on the steel block. If desired, you can use a piece of low-tack tape to hold it in place.
With the ball pein face of the chasing hammer, repeatedly strike the blank to create an overall texture. Flip the blank over and texture the other side. Check both sides and repeat until you achieve your desired texture.
The blank will be slightly warped. Place it on the steel block and strike it with a plastic mallet to flatten it.
Place the textured blank in the wooden dapping block's largest depression. With the dapping punch and plastic mallet gently shape the metal into a shallow dome. Wooden dapping sets are used to shape textured metal because they are softer and less likely to mar the finish.
Place the domed blank on the rubber block. Use a sanding sponge to polish the high points of the texture on both the front and back side. Finish up with the polishing cloth.
Repeat the steps, to texture and dome the second blank.
Assemble the Earrings
Twist open the eye pin loop, string on the hammered-brass blank, and twist the loop closed.
String the beads onto the eye pin in this order: brass heishi bead, round silver-plated bead, brass heishi bead, and round corrugated antiqued-brass bead.
Finish the top of the eye pin with a small wrapped loop and clip off any remaining eye-pin tail.
Twist open the loop on an earwire and attach it to the wrapped loop, then twist the loop closed.
Repeat the steps to make the second earring.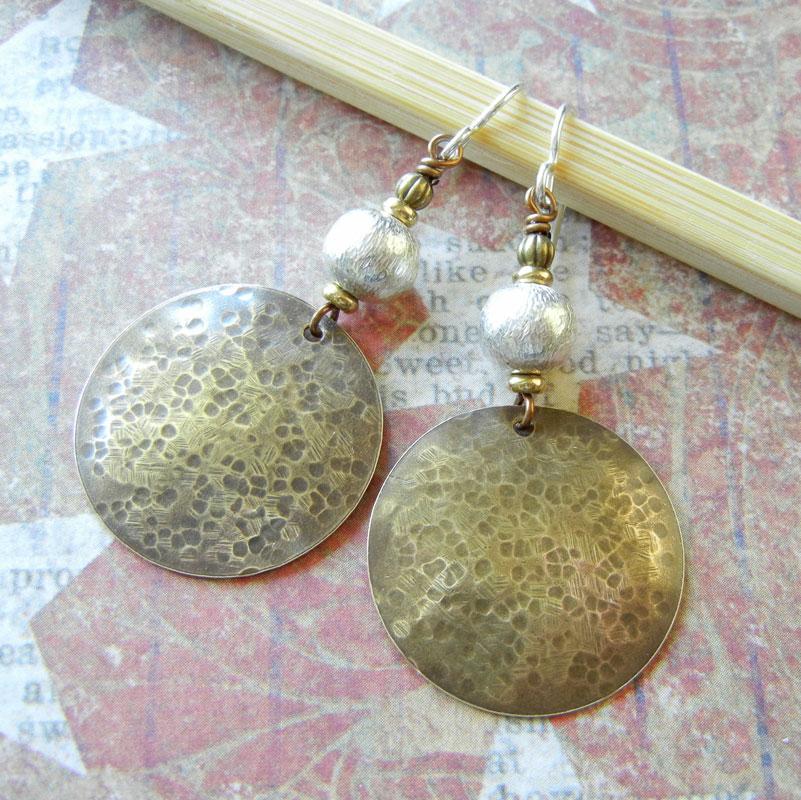 Suggested Supplies
Tools
Other Supplies
Our Bead Blog
Created by: Guest Designer Deb FlorosSuggested Supplies 1 #61-130-05-01 Greek Leather Cord, 1.5mm,

Created by: Guest Designer Deb FlorosSuggested Supplies 1 #20-111-223 TOHO Glass Seed Bead, Size 11

Created by: Guest Designer Deb FlorosSuggested Supplies 1 #21-000-043-79 Black Stone Beads, 8x12mm